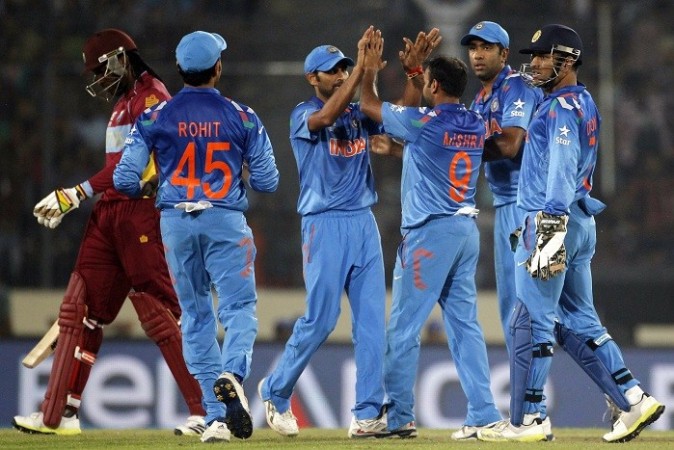 West Indies skipper Darren Sammy, on the eve of the World T20 match against India, responding to Suresh Raina's comments that WI batsmen were just six-hitters, said: "then stop us from hitting sixes."
Well, the India bowlers took that challenge on with great gusto, choking the West Indies batsmen, and lulling them into thinking they had a lot more than 20 overs to play, and with it restricting them to just 129 for seven, a couple of days after they had kept Pakistan to 130.
In reply, India made the chase look more relaxing than a luxury cruise, as Virat Kohli (54) and Rohit Sharma (62 n.o., 55b, 5x4, 2x6) breezed to the target in 19.4 overs, finishing on 130 for three to pick up their second straight comprehensive victory in the World T20.
Needing just a little over six runs an over, India were never going to panic, even when they lost Shikhar Dhawan in the first over to a dodgy lbw decision off the bowling of Samuel Badree.
It really is amazing how easy Kohli makes scoring runs look, as the vice-captain continued to make the bowlers in world cricket feel like a vegetarian in a butcher's shop.
Rohit Sharma needed some runs to take him forward for the rest of the tournament, and the opener did not throw his wicket away, playing some typically elegant shots on his way to an unbeaten half-century, while also putting on a serene 106-run partnership with Kohli from just 13.5 overs.
Kohli (54, 41b, 5x4, 1x6) did throw his wicket away, though, playing-on off Andre Russell while trying an extravagant shot, but that mattered little as it was long after the match was won by India, with West Indies, by that time probably thinking of their next game - against hosts Bangladesh on Tuesday.
Yuvraj Singh came in and looked more like the WI batsmen, lapping up 19 balls for his ten, before falling in the final over with India needing one run for victory. Suresh Raina, though, did not waste any time, and showed no tentativeness, smashing Marlon Samuels for a four to seal another easy victory.
In the first innings, Amit Mishra (4-0-18-2), man of the match yet again, was at his impressive best one more time, spinning the ball in 90 degree angles and making the WI batsmen look like tail-end sloggers with little clue on how to hit the boundaries, or indeed take the ones and twos.
Before the spinners took over, though, Bhuvneshwar Kumar, who finished with exceptional figures of 3-0-3-0, and Mohammed Shami began proceedings exceedingly well, after MS Dhoni won the toss again and asked WI to bat first, swinging the ball both ways and completely tying down Dwayne Smith.
Chris Gayle was West Indies' top scorer with a far from vintage 34 (33, 1x4, 2x6), and the big left-hander would not have even got to that score had India held onto their catches. R Ashwin missed a sitter when Gayle had not even got off the mark, with Yuvraj Singh dropping Gayle in the deep a little later after the opener mistimed a lofted shot off Mishra.
However, try as Gayle might -- and indeed the rest of the West Indies batsmen might - he just could not unlock the shackles, with pretty much every India bowler, barring Ravindra Jadeja (three for 48), keeping things tight.
Ashwin finished with economical figures of 4-0-24-1, and took the first wicket of the match, inducing a leading edge off Smith (11, 29b, 2x4) which the bowler himself held onto.
Marlon Samuels struggled at the crease as well, managing just 18 runs from 22 deliveries, and was culpable in running Gayle out, while attempting an ill-advised single. Gayle and Samuels could only manage 24 runs together from 5.1 overs, with the left-hander's wicket leaving WI on 62 for two in 13.
Samuels, soon after, fell prey to a classical leg-spinner from Mishra, with the right-hander caught out of his crease and allowing Dhoni to whip off the bails gleefully. Mishra would pick up another off the very next ball, trapping Dwayne Bravo in front with a nice googly, and with it putting West Indies on a where-do-we-go-from-here 74 for four in 14.4 overs.
Time was ripe for another bailout innings from Sammy, but the big willow-wielder, like the rest of his teammates, just could not cut loose, as India kept the choke hold firmly applied.
West Indies only managed a score beyond 120 thanks to a big last over off Jadeja, which yielded 21 runs, courtesy a couple of sixes from Lendl Simmons (27, 22b, 1x4, 2x6) and another from Sunil Narine.
The target, with India's formidable batting lineup, was never even remotely going to be enough, however, as Dhoni's men slept their way to their second win in the World T20.