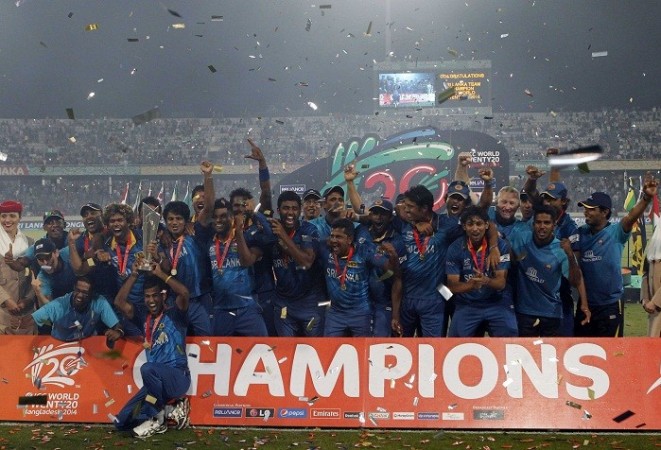 In the last seven years, Sri Lanka have been so close yet so far; losing finalists to Australia in the 2007 World Cup, to Pakistan in the 2009 World T20, to India in the 2011 World Cup and to West Indies in the 2012 World T20 at home. That's not a dear record to hold but they have blanketed all those dull memories with a win in the farewell T20 tournament of Kumar Sangakkara and Mahela Jayawardane in Bangladesh.
"It's amazing. I can't explain it. This is the first time I have been a part of a team that has won a World Cup. We'd been disappointed four times before. It's hard to describe exactly what you feel, but you feel humble," Sangakkara said in one breath. "You realise how difficult it is to get here, how much support you need, not just from your team-mates, but from your family, your fans, the support staff. You can never do anything alone. You may be the best batsman in the world or the best bowler in the world, but you can't do anything without support. At moments like this you have to look back, reflect and be thankful for that support, because without that you wouldn't be here. It's been an amazing journey. It's time to walk away, and to walk away like this is even better."
An unbeaten half-century should have been the icing on the cake for the 36-year-old. He was understandably emotional and could not stop thanking all that cricket had given him. And when someone suggested that the game finally served them back with the sweet taste of victory, Sangakkara shared his thoughts.
"I don't think the game owes us, or any player, anything," Sangakkara said with clarity. "Our job is to try and play it as best as we can, and walk away hopefully having made a positive impact. The game gives us the opportunities and it's up to us to try and take them. We had four opportunities before this, and today we took it. You need a bit of ability, luck, planning, execution. Right place, right time, right game."
If Sangakkara's crisp and measured words were on one side, Malinga's unabashed expression of joy in captaining the side to a world cup victory was on the other. And unlike Sangakkara, the sling-king did not think much of luck, really.
"I've played over ten years in this team, I know every single player, their ability, what they can do," said Malinga. "I enjoyed my captaincy in the last three games, I know exactly which player has what ability. I used that experience during my captaincy and I was successful. People can say what they want. Some say winning is luck, some say winning is talent. I really believe luck had nothing to do with our victory. We worked hard, we know our ability, we know what we can do. Everyone is talented and everyone performed well, which is why we are the champions. I don't believe in luck."
Sangakkara and Jayawardane have said that they won it for the people of Sri Lanka but Malinga said the team was playing for the heroes who they looked up to and learnt a great deal from.
"When Muttiah Muralitharan retired, we could help him get to that 800th Test wicket," a nostalgic Malinga said. "Sanga and Mahela are two greats, just like Murali. They've done wonderful service to Sri Lanka cricket. It's great that we could win the cup for them in their final match, it's a fitting gift for them. Kumar and Mahela may have retired from T20s but they'll continue to play in ODIs and in Test cricket. It will be good for the youngsters who play alongside them in Tests and ODIs."
(Edited by Vishnuprasad S Pillai)