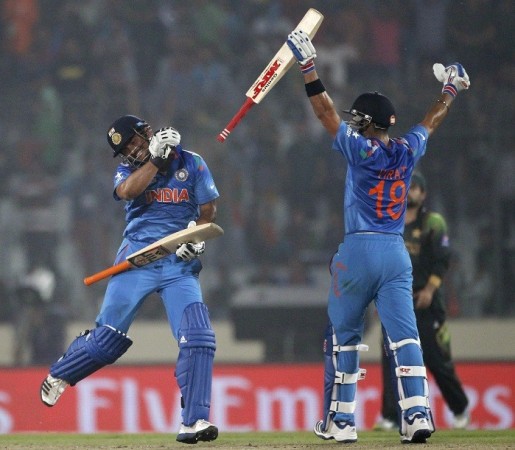 India vs Pakistan at a World Cup - stuck to the script -- MS Dhoni's men proving to be way too strong for Mohammed Hafeez and co. and with it maintaining their unbeaten streak in the big ICC tournament against their biggest opponents.
It was all India from the word go, with the bowlers, setting up an easy as pie chase for the batsmen to kickoff the World T20 2014 in the best possible fashion.
Asked to bat first, after Dhoni won that flip-of-the-coin battle, Pakistan were tethered to the hangar, unable to take off as the spinners restricted the men in green to just 130 for seven in 20 overs.
With the batting lineup that India boast of, 130 was going to be a breeze and so it proved to be as the openers - Shikhar Dhawan and Rohit Sharma - and then Virat Kohli and Suresh Raina took India home to an as dominating-as-it-gets victory over Pakistan.
A serene, worry-free start was what was needed from India's point of view, and Dhawan and Rohit provided just that, allying for 54 runs from just eight overs to set the proverbial platform.
But then, an India vs Pakistan match is never an India vs Pakistan match without some drama is it, and Dhawan, Rohit and Yuvraj Singh decided to add some spice to the contest.
Dhawan (30, 28b, 5x4) started off the proceedings, gifting a catch straight to fine leg off a short delivery from Umar Gul, who had been given the treatment in that over - the ninth of the innings - before bouncing back with the crucial wicket.0
Rohit (24, 21b, 1x4, 2x6), looking in control, and revelling in a couple of gorgeous boundaries, played a ridiculously poor shot off Saeed Ajmal, playing on to his leg stump, and leaving India on 54 for no loss to 64 for two.
It got worse in the next over as Yuvraj decided to whip a ball on off-stump to the leg side, and only managed to send a bail flying and the red fire (read light) lighting up the hopes within the Pakistan camp.
However, with India needing just 66 from 59 deliveries, and Virat how-good-is-he Kohli (36, 32b, 4x4, 1x6) and Suresh made-for-the-T20-format Raina (35, 28b, 4x4, 1x6) at the crease, the fire was doused pretty quickly, as the duo, putting on an unbeaten 66 runs in 8.2 overs, eased India to a comfortable win -- by seven wickets with nine balls to spare, finishing on 131 for three.
Calling the first innings stop-start would be doing injustice to the India bowlers, who came to the fore in some style, suffocating the Pakistan batsmen for the majority and tightening the noose when the wicket god came calling.
They hit the right lengths and lines right from the off, and every time the Pakistan batsmen attempted an extravagant shot they were found wanting.
R Ashwin (4-0-23-0) started off proceedings as MS Dhoni went for spin after choosing to bowl first - the only real option he had after deciding to go with an extra spinner, a decision which proved to be a masterstroke, with the third spinner - Amit Mishra - turning out to be the best bowler.
While Ashwin did not concede too much runs, he was hardly threatening from now-there-is-a-wicket-taking-ball perspective, with the rather negative line from around the stumps for the right-handers proving to be restrictive, which, opening the bowling, was probably the idea to be fair.
Opening up, Bhuvneshwar Kumar and then Mohammed Shami both did pretty well, with Kumar instigating the opening dismissal for India. Kamran Akmal, who played a wonderful square drive through the off-side to get the innings off the mark, decided to take off, thinking he had a plane to catch back to Karachi, and only managed to gift his wicket away, with Kumar hitting the stumps wonderfully well and sending those LED lights into overdrive.
A wicket in just the second over is never the way to go in such a high-profile game, in a World Cup, against your biggest rivals, and Pakistan just never could get over that blow.
Mohammed Hafeez, Pakistan's highest run-scorer in T20Is, looked to build that solid base before going slam-bang, but then, in this format, there never is as much time as you think there is now is there.
India did their best to give Pakistan as much rope as possible, missing a run-out opportunity which would have sent Ahmed Shehzad, the other opener, packing, while Yuvraj, of all people, grassed an opportunity which would have put Pakistan right behind the eight ball in the first ball of the sixth over.
However, Pakistan failed to capitalise on those early presents, with the spinners coming in and choking the batsmen to submission. A couple of overs after the dropped catch, Hafeez (15, 22b, 1x4) was walking back to the pavilion, as the skipper skewed a lofted shot to deep point off Ravindra Jadeja (4-0-18-1), with Kumar taking a nice catch - the bowler would have a bit of a nightmare later in the field, though, missing another catch, while misfielding and giving away another boundary.
Shehzad (22, 17b, 2x4) followed his captain soon enough, with Mishra completely flummoxing the opener with a classic leg-spinner - one that was flighted, and then dipped and missed the bat by a mile with Dhoni doing the needful.
The rest of the innings was all about Pakistan raising the hopes of their fans with a decent over here or there, before a now-I'm-hitting-that-for-a-six shot would lead to their demise.
Shoaib Malik for a little while looked like giving his wife Indian Sania Mirza the down-in-the-dumps-feeling as he smashed a four and a six, but yet again the moment there was a prolonged attempt at attacking, the wicket column added another victim.
Mishra (4-1-22-2) was the wicket-taker yet again, getting Malik (18, 20b, 1x4, 1x6) to take on the long-off fielder, which proved to be too much for the right-hander as Suresh Raina held on comfortably.
That wicket was crucial as it ended a 50-run partnership between Malik and Umar Akmal (33, 30b, 2x4), who fell a couple of overs later, with Raina completing another catch in the deep, as Mohammed Shami picked up his first wicket.
Shahid Afridi never looked comfortable at the crease, and fell after 10 deliveries, scoring eight, to Kumar, leaving Sohaib Maqsood to at least smash a few in the final two overs to take his side to never-gonna-be-enough 130.