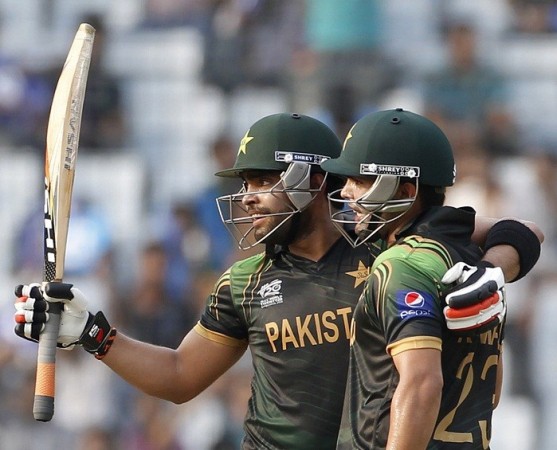 It was an important game for Pakistan not to lose against Australia on Sunday in order to keep their chances of qualifying for the semifinals of the World T20 promising, but the situation they got themselves into in the fifth over with two down at 25, they were asking for trouble. However, Umar Akmal joined his older brother Kamran Akmal to rescue Pakistan, putting on 96 runs together in the next 52 balls.
Umar Akmal fell six short of being the first Pakistan cricketer to score a century in T20 internationals, failing to clear the boundary off Mitchell Starc's full toss in the last over of the innings.
"It is the best knock of my career because the kind of stress our team was under after losing the first match [to India], for us it was important to win this match," said Umar Akmal after recieving the man of the match award. "The kind of free hand the management gave me to go out and express my abilities, I am thankful to them for that. I played my natural game and I was rewarded with a good score. We are taking it match to match. Our aim is to win every match we play. We lost the first match but our morale was kept high by the management."
Umar Akmal's winning knock, a 54-ball 94 was just enough to overshadow Glenn Maxwell's stunning 33-ball 74. Although the defeat troubled the Australia skipper George Bailey, he commended Aaron Finch and Glenn Maxwell, who took Australia from 8 for 2 -- after losing David Warner and Shane Watson in the first over-- to 126 for 3.
"It's a disappointment losing [the game], but I guess in terms of the bigger picture, to get ourselves to a stage where we needed 70 off 60 shows a lot of promise - two outstanding innings from Maxy (Maxwell) and Finchy (Finch) so that's really good for us," Bailey said. "It was an outstanding fightback from them to get us back into the game.
"To lose two of our most destructive batters within the first over, and for those guys to be able to rebuild and get the momentum back our way and get the game to a stage where we should've won was outstanding. I thought they summed the situation up really well."
Australia were poor in the field, however, dropping plenty of catches, including three off Umar Akmal. Brad Hogg dropped the destructive batsman on 22, a drop which proved to be extremely costly. Apart from the missed chances, there were many misfields as well which the captain didn't take kindly to.
"The fielding was shoddy for the standard that we set ourselves," Bailey said. "It was something that we spoke about, that we thought in this tournament could be a point of difference. It's something we've done very well in the last few games, and it just wasn't to the standard that we set ourselves.
"I am not as disappointed with the bowling as the fielding. I wasn't too disappointed with the bowling. There is always things you can improve, but I think they were two for 40-odd after about seven overs, which was a really good start for us. Certainly there are things to improve on, but I am not too disappointed."