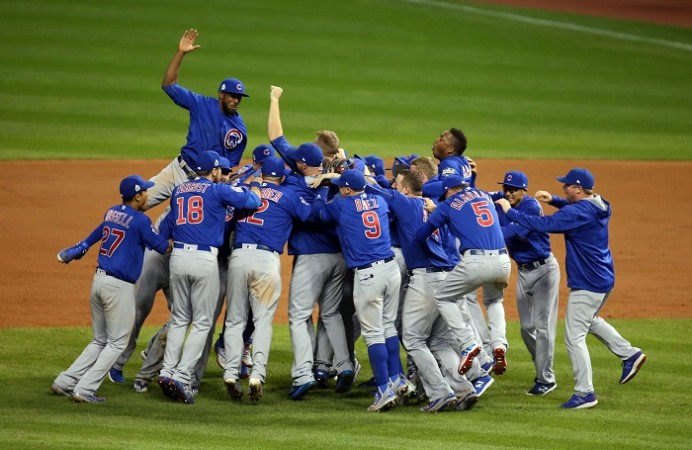 The 108-year wait is over. Chicago Cubs snapped the longest barren streak without a title in Major League Baseball by scripting a stunning comeback to clinch the World Series title on Wednesday. Up against it after the Cleveland Indians took a 3-1 lead in the series, the Cubs produced the comeback to beat all comebacks to win their first World Series title since 1908.
Just like the agonising wait for a title, the Chicago Cubs were made to sweat for the Game 7 victory, a Game 7 that had it all – runs, great and poor pitching, poor fielding and some wonderful, outstanding you-cannot-beat-it drama.
Up 6-3 at one point heading into the final two innings, the Cubs blew the lead – Aroldis Chapman blowing the save after Rajai Davis hit the tying homer – with the decider, after a slight rain delay – c'mon it's Game 7, the drama has to be prolonged – heading into the extra innings in the process.
When it looked like the drought would go on for another year, Ben Zobrist drove the Cubs back into the lead at the top of the tenth innings, with pinch-hitter Miguel Montero adding the insurance run to make it 8-6.
That run would prove to be crucial too after the Indians brought it back to 8-7, but the Cubs would hold on in the end to script a truly wonderful victory.
The Cleveland Indians' wait for the championship will move into its 69th year, at least, and it is ironic that the NBA franchise from the same city – Cleveland Cavaliers -- pulled off a similar comeback as the Cubs in the finals, against the Golden State Warriors, earlier this year to snap a 52-year championship drought. The man who inspired that brilliant comeback – LeBron James – was watching from the stands of the Progressive Field, but his and the rest of the crowd's cheers weren't enough for the Indians to win their first crown since 1948.
The drought for baseball fans of Cleveland goes on, and a painful one this will be to take too, considering they were within a game of a title with three to play.