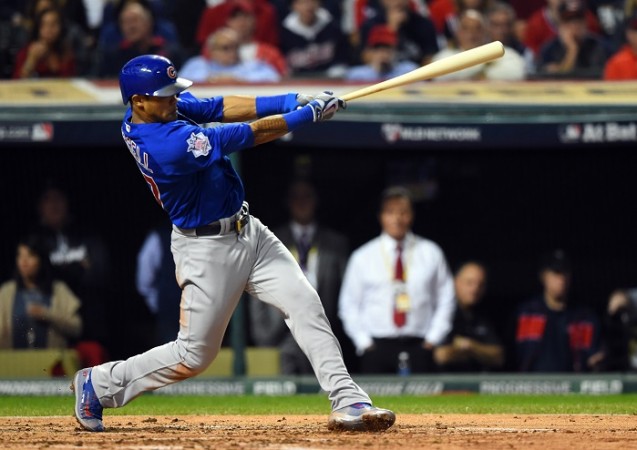 The Chicago Cubs do not know when to say "Ok, we're done." With their backs to the wall and facing a heartbreaking World Series loss to the Cleveland Indians, the Cubs produced a remarkable performance again, riding on the back of a brilliant night for Addison Russell to take the biggest series in baseball to the deciding Game 7.
Needing a win to stay alive and have a chance of ending a 108-year wait for a World Series title, the Chicago Cubs silenced the Progressive Field crowd with a brilliant offensive show, on the back of six RBIs from Russell.
At the end of the nine innings, the Cubs won 9-3 to tie the series at 3-3 and push it to the decider on Wednesday.
It all looked good for Cleveland to begin with as Josh Tomlin got the first two outs comfortable enough, before firing in two strikes against Kris Bryant. From there, though, everything went pear-shaped for the home side, as Bryant homered to open the scoring.
Russell then picked up his first two RBIs of the night by sending Anthony Rizzo and Ben Zobrist, who had both singled to get on base, home, to give the Cubs the start they wanted.
From there, with the momentum firmly in their favour, the Chicago Cubs went for the jugular. In the third, with the bases loaded, Tomlin was given an early shower and Dan Otero was brought in to try and stop Russell from finishing the game off.
With the Cleveland fans hoping for the best, but fearing the worst, Russell with a sweet-as-they-come swing of the bat powered the ball 435 feet to the left to increase the lead to 7-0, leaving the Cleveland Indians supporters, looking for their first World Series title in 68 years, stunned.
Rizzo would later power a two-run homer of his own to add the gloss, but the damage was already done by the bat of Russell.
It is now onto Game 7 on Wednesday, and Cleveland will need better pitching and a faster start if they are to stop the Cubs from producing one of the great baseball comebacks.