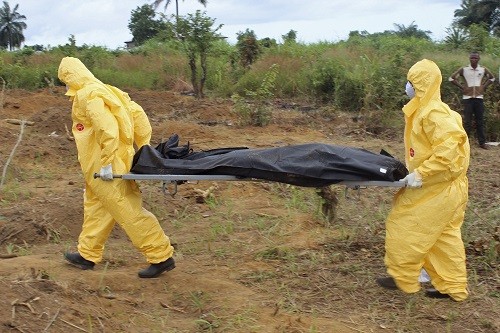 Ebola has killed nearly 7,000 people in the three West African countries Guinea, Liberia and Sierra Leone alone, according to a World Health Organisation (WHO) report.
A situation summary released by the WHO on Friday, 28 November, has rounded off the total cases to 16,169 and mortality rates to 6,928. Liberia topped the list with 7,244 Ebola cases and 4,181 deaths; while Sierra Leone (6,802 cases and 1,463 deaths) and Guinea (2,123 cases and 1,284 deaths) closely followed it.
However, figures released by the organisation two days ago on Wednesday, 26 November, – had estimated the total cases to 15,935 across the globe and deaths to 5,689. During that time, Guinea reported 2,134 cases and 1,260 deaths, Liberia 7,168 cases and 3,016 deaths and Sierra Leone 6,599 cases and 1,398 deaths.
The rest of the cases were reported in Mali (8 and 6); Nigeria (20 and 8); Senegal (1 and 0), Spain (1 and 0), and United States of America (4 and 1).
Meanwhile, authorities from the UN Ebola response mission have warned that the disease can spread to other parts of the world, BBC reported.
The head of the UN Ebola response mission in West Africa, Tony Banbury, while talking to BBC, said that, "there is a huge risk to the world that Ebola will spread. It may spread around this sub-region, or someone could get on a plane to Asia, Latin America, North America or Europe... that is why it is so important to get down to zero cases as quickly as possible."
The UN health officials found that the countries still lacked many safety measures crucial to put an end to the outbreak.
The WHO told the BBC that about 20% of the infections still occurred during burials and in many cases, people were still sticking to risky religious methods like washing the body or kissing it.