To quote writer J.K. Rowling, "Indifference and neglect often do much more damage than outright dislike."
Living in the 21st century entails accepting a world that's connected with strands of emotions such as fear, anger, love and brutality. Almost anywhere on the globe, millions suffer under the thumb of oppressive regimes, and thousands die of poverty. On "World Humanitarian Day" it is but fitting to reflect on human rights abuses across the world.
There are a few people amidst us who have challenged human rights abuse. Here, we recall those who have started a dialogue or donated to a campaign that seeks to end human rights abuse.
Angelina Jolie
Angelina's commitment to a world where rights are acknowledged, respected and cherished is unrelenting. The actress has donated millions of dollars to campaigns such as Doctors Without Borders and the Jolie-Pitt Foundation, which aims to eradicate rural poverty, conserve wildlife and protect natural resources. In 2001, Angelina was UN's Goodwill Ambassador who sought to spread awareness about the plight of refugees. Her extensive involvement with refugees who suffer violence, brutality, rape and displacement has taken her to countries such as Pakistan, Thailand, India, Sierra Leone, Ecuador and more. In 2005, she was awarded the "Global Humanitarian Award" by the UN.
Emma Watson
She has been at the forefront of the "He for She Campaign." Her moving speech is a reminder that gender stereotypes and oppression extend to both sexes. Emma's campaign to bring about equal rights for all and change dominant perceptions of different genders is immediate, real, and one that is very much needed in the 21st century.
George Clooney
The actor is known for speaking his mind about issues that violate justice in society. His involvement with the genocide in Sudan has been long and ceaseless. The actor founded his charity "Not on Our Watch" to help victims of the genocide. George also travelled to the country and met with people who've suffered rape and torture. George was named United Nations Messenger For Peace in 2008.
Scarlett Johansson
The 'Avengers' actress has worked with Oxfam since 2007. As the Oxfam ambassador, she has travelled to Kenya and skipped the Oscars event to work with Indian women who are victims of domestic violence. The actress also donated 2,000 pairs of shoes as part of the "Soles4Souls" campaign, which seeks to give free footwear to people regardless of race, sex and gender.
Ashton Kutcher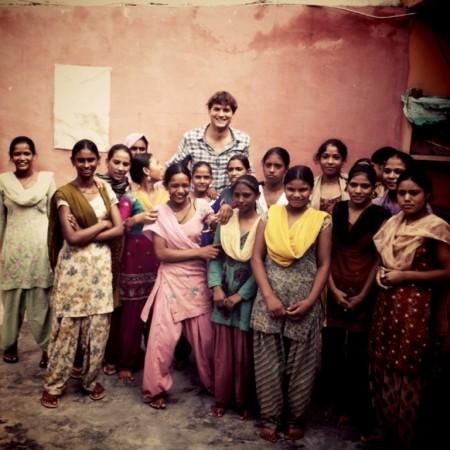 Although Ashton Kutcher has recently ventured into the world of philanthropy, his contributions cannot be missed. The actor set up DNA Foundation with ex-wife, Demi Moore. The charity aims to fight child sex slavery by attempting to change cultural stereotypes. The actor is also a big supporter of GEMS, which aims at rehabilitation of girls and women who have been abused in sex trade.