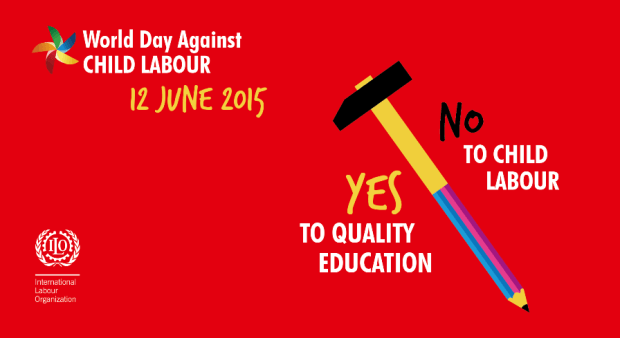 International Day Against Child Labour 2015, a United Nations observance to bring awareness against child labour is being commemorated on Friday, 12 June.
The UN began observing the special day for children in 2002 and the latest surveys suggest that more than 215 million children work instead of attending school. Some do not even have enough time to play.
Many are exposed to slavery and other illicit activities like drug trafficking and prostitution, and some are even involved in armed conflict.
The theme of this year's day against child labour is "NO to child labour – YES to quality education!"
Check out some quotes by famous personalities on child labour:
In India, innocent and poor children are victims of child labour - Malala Yousafzai
Some girls cannot go to school because of the child labour and child trafficking - Malala Yousafzai
Child slavery is a crime against humanity. Humanity itself is at stake here. A lot of work still remains, but I will see the end of child labour in my lifetime. - Kailash Satyarthi
Child labour and poverty are inevitably bound together and if you continue to use the labour of children as the treatment for the social disease of poverty, you will have both poverty and child labour to the end of time. - Grace Abbott
Feeding a child at school is such a simple thing – but it works miracles. - Unknown
Check out some popular slogans against Child Labour
"Do a Favour, Avoid Child Labour."
"Child in Pain is No Gain!"
"Small Hands Can Handle a Pen Better."
"Let Children be Children, Not Child Labourers."
"Put the Child in Class Not in Glass"
"Give Your Girl Child Pencil, But Not to Wash Utensil."
"It is a Shame, It is a Disgrace to Have Kids Work in the Workplace"