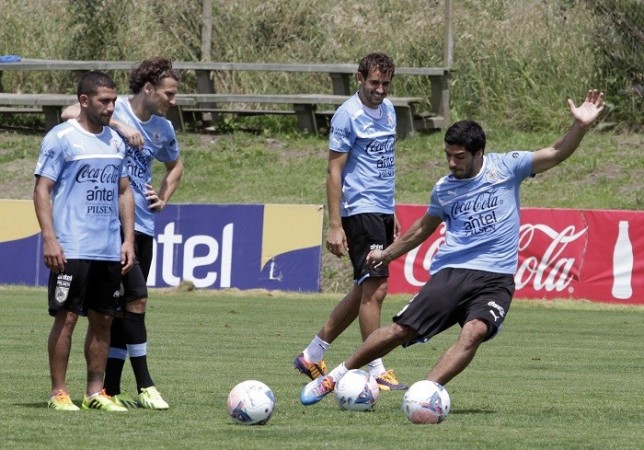 Uruguay will be expected to be the final team to qualify for the 2014 World Cup when they take on Jordan in the second leg in Montevideo.
The South Americans hold a massive 5-0 advantage from the first leg, and barring a monumental collapse in the second leg, the likes of Luis Suarez and Edinson Cavani will have booked their places in Brazil at the end of the 90 minutes.
Goals from Maximilliano Pereira, Cristian Stuani, Nicolas Lodeiro, Cristian Rodriguez and Cavani won Uruguay the game in Jordan, and if Oscar Tabarez's side are in the mood, then a similar scoreline can be expected.
Tabarez, though, is adamant on warding off any signs of complacency from his side. "It's very special and you hope to be able to celebrate after qualifying," Tabarez said. "But there is one more match to go and we need to be sure we do things right.
"The result in this return match may not be too important in terms of going through, but we should not forget that in seven hours we sold 45,000 tickets and the following day, the rest all went too. Those people, the fans, are showing their support and we have to go out and play a serious match. Being at the World Cup is so important to the people of Uruguay and we want to make it a big party for our fans."
The Uruguay coach might have been expected to give the likes of Suarez and Cavani a rest, considering the big advantage, but Tabarez insisted his best players would play, showing just how seriously he is taking this second leg.
"It is still a very important game, therefore we are not going to make a lot of changes," he added. "Whenever we play a match, the team we introduce to the pitch depends on who we are playing and the circumstances of that match.
"We are not here to give playing time to the players who don't deserve to be on that pitch. They have to earn those caps and the chance to play by playing well for their teams or when we play friendlies."
For Jordan it is about playing for pride and trying to get as positive a result as possible against a side filled with stars. "We are hugely disappointed [with the first leg result]. We told everyone that at home it would be difficult, but we expected a lot more," Jordan midfielder Thaer Bawab said. "We now come here looking for a good result, for our people more than anything -- we want to change our image."
Where to Watch Live
The game is scheduled for a 4.30 am IST start with no live coverage in India. To catch the action live streaming online through Bein Sport in the U.S. click HERE. To watch it live online via Al Jazeera Sport in the Middle East and North Africa, click HERE.