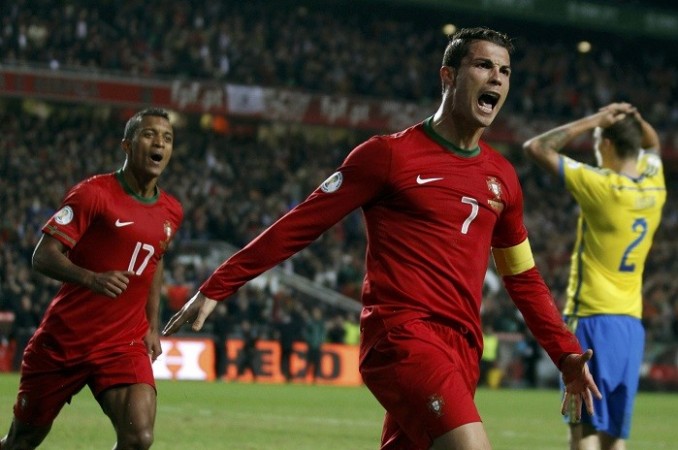 France are staring at the real prospect of not making the 2014 World cup after suffering a tame defeat to Ukraine, while Cristiano Ronaldo came to the fore in the final moments to give Portugal a slender advantage over Sweden.
Ukraine played like they wanted the win more, went on the attacks with plenty of energy and deservedly came away with a 2-0 in from Kiev.
Both sides picked up late red cards, but the only thing that really matters in football - goals - came via the boots of the home side.
"We struggled because they put a lot of commitment into the game," said France coach Didier Deschamps, who was in the France squad that failed to qualify for the World Cup the last time in 1994. "They committed a lot of fouls, they were very aggressive.
"It's obviously a very bad result. We have to believe (we can go through) but Ukraine are the team in the best position to qualify," he added in an on-pitch interview with French TV channel TF1.
"We still have 90 minutes at home."
Roman Zozulia opened the scoring for Ukraine, managing to get his shot past France goalkeeper Hugo Lloris, making a start after suffering a concussion for Tottenham 12 days ago, off a pass from Edmar.
The first leg was then decided eight minutes from time when Laurent Koscielny brought down Zozulia inside the penalty box. Andriy Yarmolenko stepped up and converted the penalty to make it 2-0.
Ukraine were not happy with a two-goal victory, though, and they went in search of a couple more pressing forward at every opportunity.
Koscielny's forgettable night was capped off by a red card when the Arsenal defender was given his marching order for lashing out at Oleksandr Kucher as his frustrations boiled over in stoppage time. Kucher would also then get sent off, after receiving a second yellow card for a foul on Franck Ribery, who could not inspire his team on the night.
"I am grateful to our players who took into consideration that psychology would be the crucial factor in this game," Ukraine coach Mykhailo Fomenko said.
"It would have been better to make it 3-0 as we had chances to increase our advantage. We will find out if this is a solid result only after the return game."
In the other big playoff, billed as the contest between Cristiano Ronaldo and Zlatan Ibrahimovic, the Portuguese came out on top.
Ronaldo came up with a headed goal in the 82nd minute off a cross from Miguel Veloso to give Portugal a 1-0 victory over Sweden in Lisbon.
Until that moment, neither side had mustered too many chances, with both Ronaldo and Ibrahimovic kept pretty quiet.
"We created a great early chance and Sweden hit back," Portugal coach Paulo Bento said. "But in the second half it was one way for us. "It was an important step to reach the World Cup but not yet decisive.
"We managed to counter Sweden's direct football. I don't think their football will change much in their home leg, maybe perhaps press a bit higher."
Results: Ukraine 2-0 France; Portugal 1-0 Sweden; Greece 3-1 Romania; Iceland 0-0 Croatia.