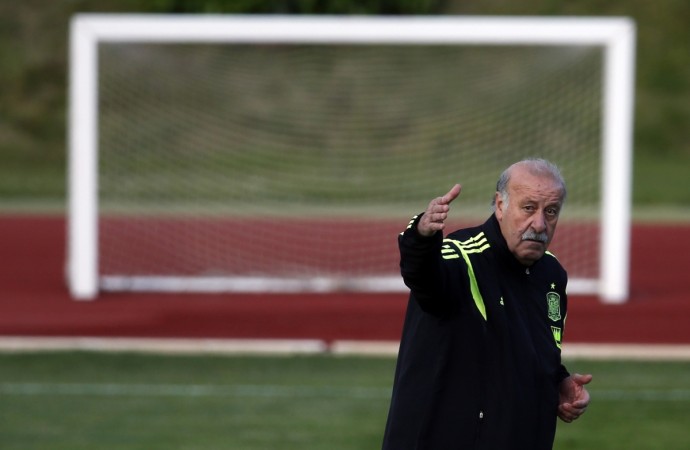 Spain head coach Vicente del Bosque is confident that striker Diego Costa and winger Jesus Navas will return to full fitness before the start of the World Cup.
"The prospects appear to be good. On Friday the pair of them will undergo tests. Diego will have a radiology test, as for Jesus he seems to be fine. We will evaluate their conditions and take a decision Saturday morning," said the former Real Madrid coach.
Costa, who was forced off the pitch just nine minutes into Atletico Madrid's defeat to Real Madrid in the Champions League final due to a hamstring issue, was believed to be a major doubt for the World Cup. Doctors had warned Costa that he would require at least 15 days of rest, before they could re-evaluate the injury.
Manchester City star Navas, on the other hand, has been out of action since mid-April after suffering from an ankle injury. del Bosque has delayed naming his final 23-man squad for the World Cup, due to the injuries and fitness issues of his key players.
Recent reports claimed that the 63-year-old would closely watch the players during Spain upcoming friendly against Bolivia, before naming the squad. However, del Bosque dismissed these suggestions, stating the players have already proved their worth.
"Nobody has anything to prove, the guys who are here have already shown they deserve to be here," del Bosque pointed out.
The La Roja boss stressed he has only asked the players to work a little harder, so that they can extend their stay in Brazil.
"The season ends and we're asking them to give an extra effort that could last 50 days, and I hope it lasts that long. But honestly we've found them to be in rather good shape."
Spain, who have been placed in Group B alongside Chile, Netherlands and Australia, will be hoping to successfully defend their title, when the tournament kicks off on 12 June.
Meanwhile, Real's Cristiano Ronaldo, Pepe and Fabio Coentrao have reportedly joined Portugal's training camp in Obidos, after a few days of rest following Los Blancos 4-1 victory over Atletico in the Champions League final last week.
Ronaldo, who picked up an injury late in the season, is not expected to immediately start training with the rest of the squad as the 29-year-old is reportedly not feeling 100 percent fit yet.
After featuring in the Champions League final, Ronaldo admitted that he struggled in the match that extended to 120 minutes.
Portugal, who are in Group G alongside Germany, USA and Ghana, will be hoping their talismanic forward can recover before their first match on 15 June.