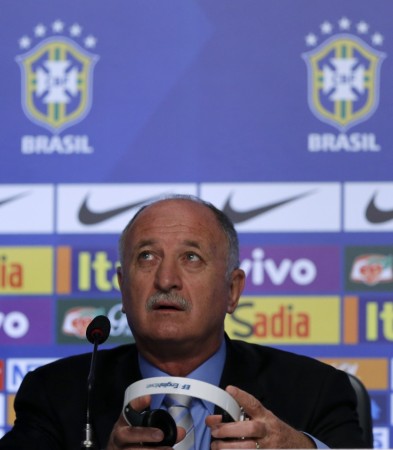 Brazil head coach Luiz Felipe Scolari has dismissed suggestions that the referee favoured his side, during the Selecao's 3-1 win over Croatia in the opening fixture of the 2014 World Cup.
Brazil emerged victorious, thanks to two goals from star man Neymar and a late strike from Oscar but their all-important second goal came from a controversial penalty, when Fred went down following minimal contact from Croatia defender Dejan Lovren.
Despite protests from the Croatian team, Japanese referee Yuichi Nishimura awarded the penalty to the hosts, who then went ahead as Neymar stepped up and put the ball past stopper Stipe Pletikosa.
Scolari says he watched the replay of the incident a number of times, and feels Fred was fouled and that the referee made the correct decision.
"Thousands didn't see the penalty? The referee saw it and he is the one that decides. We also think it was a penalty. I watched it 10 times and, for me, it was a penalty," Scolari pointed out.
Though the hosts did not look very convincing in their opening fixture of the World Cup, the 65-year-old refused to criticise his players publicly.
"I'll tell the players first what I didn't like, not you," the manager added.
However, Scolari, who won the World Cup with Brazil in 2002, did praise the performance of Neymar, saying he is a "special player."
"The only thing we want is that Neymar is happy playing ball. He's a special player. He (Neymar) doesn't need all of you (the media) to demand that he become the best player in the world. His responsibility is to play for Brazil, and that's what he did today," the former Chelsea boss said.
Meanwhile, Croatia head coach Niko Kovac did not agree with his counterpart Scolari, and insisted that his side were treated harshly by the referee.
"I don't think anybody, anywhere in the stadium, saw this as a penalty. If you continue like this you will have 100 penalties. I think 2.5 billion people watching on TV saw this was not a penalty. This was ridiculous and if we continue in this way we will have a circus. Fred is an 85kg man and I don't believe he can be brought to the ground in such a manner," Kovac stated in the post match conference.
Kovac, who claims he does not blame Fred for trying to win a penalty for his side, made subtle suggestions that the referee was a little biased towards the hosts.
"I cannot blame Fred at all - everyone tries it on. Like it or not, this is part and parcel of football. What I want is for referees to stick to the laws of the game and apply them equally to both teams."