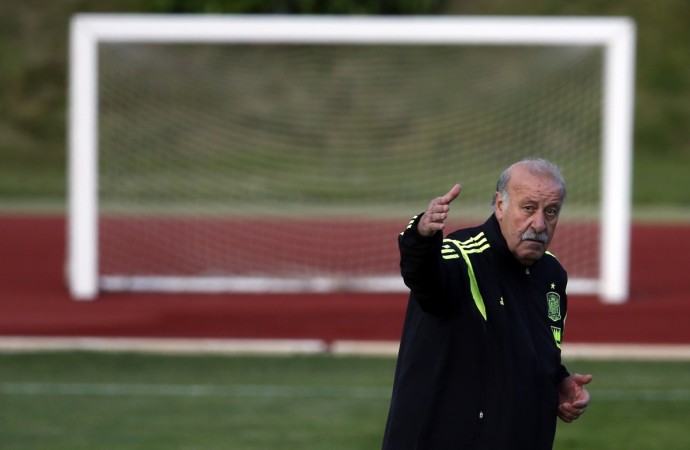 Manchester City winger Jesus Navas has been left out of Spain's 23-man squad for the 2014 World Cup, while Atletico Madrid duo Diego Costa and David Villa, Chelsea's Fernando Torres and Manchester United's Juan Mata have been included.
Navas had recovered from an ankle injury and impressed in training but Spain coach Vicente del Bosque stated the 28-year-old could not be included in the final squad as he was out of action for the last seven weeks or so.
"My heart sinks. He's a guy who's spent two months without playing. He's almost perfect, but it has been two months without playing. We prefer to take someone in a condition that we have no questions about," the manager said.
However, del Bosque has risked inlcuding Costa, who is still recovering from a thigh injury. But in case the Brazil-born striker is unable to recover before Spain's first game against the Netherlands on 13 June, the boss will be forced to rely on Costa's Atletico teammate David Villa and Chelsea's Fernando Torres, who have both been included in the squad.
The inclusion of Torres and Villa over the likes of Juventus' Fernando Llorente and Manchester City's Alvaro Negredo has been slightly surprising, considering they have not been in the best of forms this season.
However, del Bosque had earlier stated that he has full faith in Torres, despite the striker scoring only five Premier League goals for Chelsea last season. Villa will also certainly be able to thrive in Spain's possession-based game, though the striker's form has seen a dip over the last couple of years.
In midfield, regulars Andres Iniesta, Xavi Hernandez, Sergio Busquets, David Silva and Xabi Alonso have all been named, and are all expected to start the first match.
Juan Mata, who had a poor season last term, has been included in the squad, thanks to Navas' fitness issues, while Koke, Cesc Fabregas and Santi Cazorla also made the cut.
Spain's defence also seem to be strong, with Del Bosque once again going with all the expected faces.
Sergio Ramos and Gerard Pique will most probably be the preferred centre-backs to man the heart of Spain's defence, while the versatile Javi Martinez and Raul Albiol are on standby.
Cesar Azpilicueta is expected to see off competition from Juanfran Torres to be del Bosque's first choice right-back, while Jordi Alba will play on the left.
Captain Iker Casillas remains the first-choice goalkeeper, ahead of Pepe Reina and David de Gea.
Here is Spain's 23-man squad for the 2014 World Cup
Goalkeepers: Iker Casillas (Real Madrid), Pepe Reina (Napoli), David de Gea (Manchester United)
Defenders: Cesar Azpilicueta (Chelsea), Gerard Pique (Barcelona), Jordi Alba (Barcelona), Sergio Ramos (Real Madrid), Javi Martinez (Bayern Munich), Raul Albiol (Napoli), Juanfran Torres (Atletico Madrid).
Midfielders: Sergio Busquets (Barcelona), Xavi Hernandez (Barcelona), Andres Iniesta (Barcelona), Cesc Fabregas (Barcelona), Xabi Alonso (Real Madrid), Koke (Atletico Madrid), David Silva (Manchester City), Juan Mata (Manchester United), Santi Cazorla (Arsenal).
Forwards: Pedro Rodriguez (Barcelona), Diego Costa (Atletico Madrid), David Villa (Atletico Madrid), Fernando Torres (Chelsea).