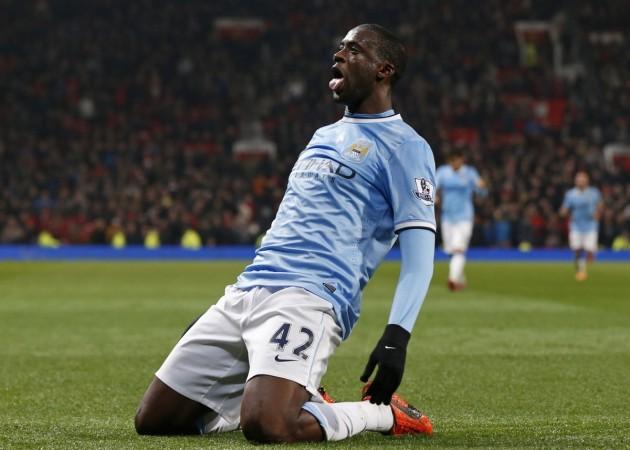 Ivory Coast midfielder Yaya Toure says that he will consider his international future after the end of the 2014 World Cup in July.
Despite 80 caps for his country, the Manchester City midfielder has not won any silverware with Ivory Coast. While the Ivorians were eliminated from the group stages in the 2006 and 2010 World Cup, they emerged as runners up in the Africa Cup of Nations in 2006 and 2012.
Now the 31-year-old midfielder, who knows that he doesn't have much time left to win trophies with his country, says that he will be deciding on his international future after the World Cup.
"We have an amazing squad of players and we all think it is about time we reach our full potential," Toure told the Mirror. "When I look around and see players like Drogba, Kalou, Bony, Gervinho and Zokora, I can only be filled with confidence."
"Why we haven't gone on to win a trophy is something that I can't understand. We want and we hope we make it soon because some of us haven't got a lot of time left to be winners. It won't be long until we have to step aside and let the younger generation come through."
The Manchester City midfielder, who was in terrific form last season, scoring 20 and assisting nine goals in the Premier League, says that he wants to end his international career on a high note.
"It is important to me that, when I do stop playing for Ivory Coast, I leave in a good moment. I have always said I would stop once I had won something, and maybe that has brought some bad luck to the team."
"I am thinking about it, but I haven't made a decision about when it will happen. I will see what happens at the World Cup. It's a very difficult decision and I want to do it at the right moment."
Meanwhile, Toure's real reason behind his recent unhappiness at the Etihad is due to him being not offered a new improved contract by Manchester City, according to the Daily Star.
The former Barcelona man, who recently threatened to leave City following the ridiculous birthday row, reportedly wants to receive similar treatment as the club's other key players including Sergio Aguero and David Silva.
Both these players along with Edin Dzeko, Vincent Kompany, Aleksandar Kolarov, Joe Hart, Samir Nasri and James Milner are reportedly being offered new deals by City.
Toure, who played a big hand in City's success in the Premier League and League Cup, reportedly feels that he is being treated unfairly at the Etihad.