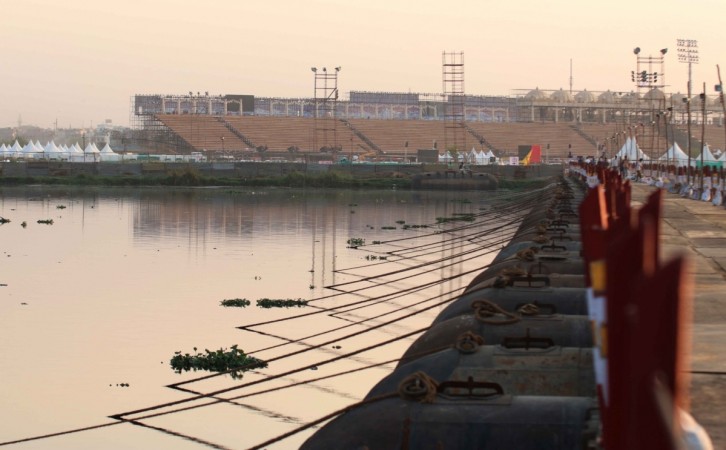 The National Green Tribunal (NGT) Wednesday fined the Art of Living foundation Rs 5 crore for the damage done to the Yamuna floodplains and has given permission for the event to take place as scheduled between March 11 and 13. The NGT has also fined the Delhi Pollution Control Committee Rs 1 lakh.
The NGT said "drastic damage" had been done to the Yamuna riverbanks.
The Art of Living Foundation, run by self-styled guru Sri Sri Ravi Shankar, said Rs 25.63 crore had been spent on the event. It also assured the environment court it would not pollute the river.
"If you can do it in this cost, it is indeed remarkable — maybe you should handle all such national events!" NDTV quoted the NGT as saying.
The tribunal had raised concerns over the stability of the massive stage, touted as the biggest in the world, as it was being built near marshland.
The Delhi Police Wednesday said the event was likely to be chaotic and could see a stampede. The involvement of the Army, which was roped in to build a pontoon bridge, was criticised by the Opposition in Parliament. Meanwhile, Shankar said the event should not be politicised.
The NGT also pulled up the Delhi government, Delhi Development Authority (DDA) and the Centre, asking if any assessment was done regarding the consequences of the event to the environment, reports Hindustan Times.
The civilian who petitioned against the event said 2,700 acres were being used for the World Culture Festival. However, the DDA said permission had been given for 60 acres. Earlier, Shankar had said instead of damage the Art of Living Foundation would leave a biodiversity park on the site. The NGT was quoted by ANI as saying Wednesday no permanent structure would be allowed at the location.
The Water Resource Ministry, which was also questioned, said it "has no role in granting or not granting permission."
"I'm totally with Sri Sri Ravi Shankarji &wish all success to his event. Rest has to be taken care of by NGT. Sri Sri Ravi Shankarji and his followers are committed to environment; I'm sure no damage will be done, [sic]" Water Resource Minister Uma Bharti was quoted as saying by ANI.
Environment Minister Prakash Javadekar was quoted as saying by ANI his ministry had given the necessary affidavit about the permission given for the event, and the matter rests with the NGT now.
Farmers launched a protest in New Delhi against the World Culture Festival, which Congress leader Sandeep Dikhshit, son of former Delhi chief minister Sheila Dikshit, has joined, reports ANI.