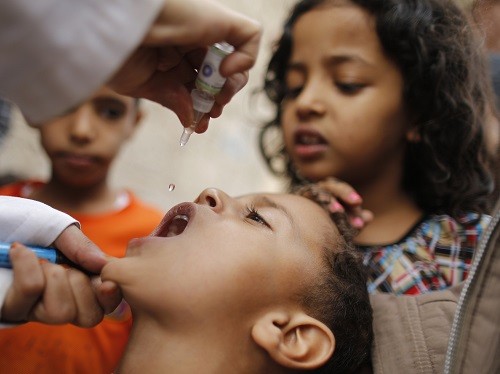 Notwithstanding several hurdles faced by the health workers in countries like Pakistan and Afghanistan, the World Health Organization (WHO) said Monday that the world could be polio-free within a year.
The WHO said just nine cases of polio were reported so far this year. Out of the nine, seven were in Pakistan and two in Afghanistan. These were the cases of wild polio (naturally acquired polio) as opposed to vaccine-derived, the Guardian reported.
The agency said that there is a possibility of no polio transmission by the end of this year, even if more polio cases are reported during summer. It said that there were even few cases reported during the winter.
"It is going to be an extraordinary achievement. This has been an ongoing effort since 1988. We started with 150 countries and we are now just down to two countries and nine cases (so far this year)," Michel Zaffran, WHO's director of polio eradication, was quoted as saying by the Guardian.
The world has acted tough against the polio virus that targets the nervous system of children, leading to partial or complete paralysis of their limbs.
The polio cases reported worldwide have declined by 99 percent since 1988, when the global polio eradication initiative took off.
Zaffran said the fight to eradicate the polio virus needs to be continued. "But we think we could reach the point where we have truly interrupted the transmission at the end of the year or the end of the low season [winter] next year," he said.
Currently, Pakistan and Afghanistan are the only two countries battling the disease, mostly due to opposition from various extremist groups that allege polio vaccinations could lead to infection among children.
The health workers in Pakistan face violence from the extremist groups, if they participate in the polio eradication programmes. At least 66 people have been killed in attacks on polio vaccination teams since July 2012 in the country, AlJazeera reported.
WHO is currently focused on Karachi and two cross-border tribal areas of Pakistan since they reported maximum number of polio cases.
In Afghanistan, 47 districts have been prioritised for vaccination and surveillance, of which 32 are under control of anti-government forces, Zaffran told the Guardian.
The WHO, undeterred by the challenges from the extremist groups, has intensified its efforts to reach out to those children who missed out during previous vaccination drives.
The virus, however, re-emerged in Iraq, Nigeria and Syria in 2013. However, they have now been declared polio-free.
India was also declared polio-free by the WHO in 2014.
"If we can achieve this, it is enormous: not only will it be the second human pathogen to be eradicated ever but it will be a great legacy for the world in terms of efficacy of vaccination programmes," said Joël Calmet, a doctor with Sanofi Pasteur — a polio vaccine manufacturer.