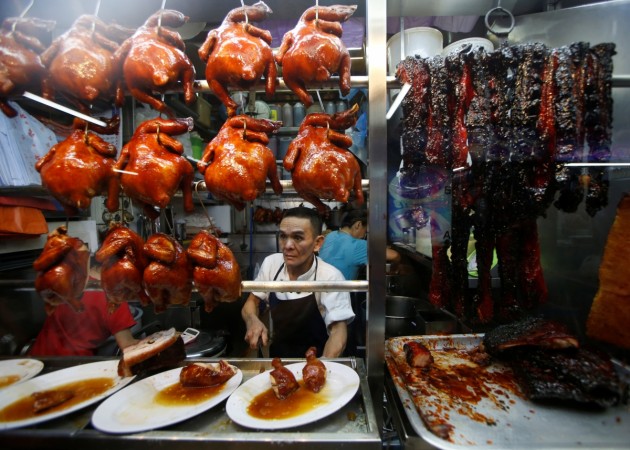 Celebrated on the second Thursday of every year, World Chicken Day is just another reason for chicken lovers to indulge in their favourite poultry food.
Here are our top picks of chicken recipes for everyone to prepare and devour in celebration of World Chicken Day:
Grind 100 gm onions 50 gm ginger 50 gm garlic 50 gm fennel seeds 20 gm cumin seeds 25 gm peppercorns 10 gm red chillies and 100 gm coconut for the paste.
Clean and cut the chicken into 16 pieces. Marinate the chicken with the paste.
Chop the tomatoes, coriander leaves and the onions.
Heat oil and add the cinnamon, cardamom, cloves and cumin, Saute.
Add the chopped onions and the curry leaves. Saute until the onions are golden.
Add the tomatoes and saute for 5 minutes.
Add the marinated chicken and turmeric powder. Saute for 10 minutes, sprinkling water at intervals.
Add enough salt, cover with a lid and cook until done. Add more chilli or pepper if required.
Serve garnished with coriander leaves.
Preheat broiler.
Combine 2 tablespoons of Parmesan, breadcrumbs, parsley, basil, and 1/8 teaspoon salt in a shallow dish.
Place egg white in a shallow dish. Dip each chicken tender in egg white; dredge in the breadcrumb mixture.
Melt butter in a large nonstick skillet over medium-high heat. Add chicken; cook 3 minutes on each side or until done. Set aside.
Combine 1/8 teaspoon salt, pasta sauce, vinegar, and pepper in a microwave-safe bowl. Cover with plastic wrap; vent.
Microwave sauce mixture at HIGH 2 minutes or until thoroughly heated. Pour the sauce over chicken in pan.
Sprinkle evenly with the remaining Parmesan and provolone cheese. Wrap handle of pan with foil, and broil 2 minutes or until the cheese melts.
Korean-style fried chicken
Add some oil to a deep-fryer or to a 15-centimetre depth in a large pot and heat to 170C.
For the chilli sauce, add 6 tbsp gochujang (Korean chilli paste), 3 cloves of finely grated garlic, 10cm piece of finely grated ginger, 5 tbsp dark brown sugar, 4 tbsp dark soy, 4 tbsp rice vinegar, 2½ tbsp fish sauce and 1 tbsp sesame oil to a saucepan and simmer for four minutes, until the sauce thickens slightly. Tip into a large bowl.
Whisk three egg whites in a large bowl until foaming. Whisk in 200 millilitres of water and the salt. Sift in 50 grams of rice flour, the potato starch, plain flour, baking soda and ground pepper and mix until you have a smooth batter.
Dust the chicken in the remaining 50 grams of rice flour and add to the batter. Toss through until well coated.
Fry the chicken in batches for seven minutes each. Drain on paper towel and set aside, keeping the batches separate.
Once all the chicken has been cooked, fry again for another seven minutes, starting with the first batch you cooked, until golden and cooked through. Drain again and keep warm.
Once all the chicken has been cooked a second time, add to the sauce and toss until thoroughly coated. Serve with a sprinkling of sesame seeds and spring onion.
Barbecued Chicken
For Barbecue sauce heat oil in a medium saucepan over medium heat. Add tomato paste and cook, stirring often, until paste turns brick-red, about 2 minutes.
Add garlic powder, onion powder, paprika, cayenne, and black pepper. Cook, stirring, until fragrant, about 1 minute.
Add vinegar, orange juice, brown sugar, molasses, Worcestershire sauce, mustard powder, and 3 cups water.
Cook, stirring occasionally and scraping up any browned bits, until reduced by half, 50–60 minutes; season with salt.
Grill 1 3½–4-pound chicken, cut into 10 pieces (breasts halved) for medium heat. Season chicken with 4-3-2-1 Spice Rub.
Grill, turning occasionally, until lightly charred, 15–20 minutes.
Continue grilling, turning and basting with barbecue sauce often, until chicken is cooked through and an instant-read thermometer inserted into the thickest part of thigh registers 165°, 8–10 minutes longer.