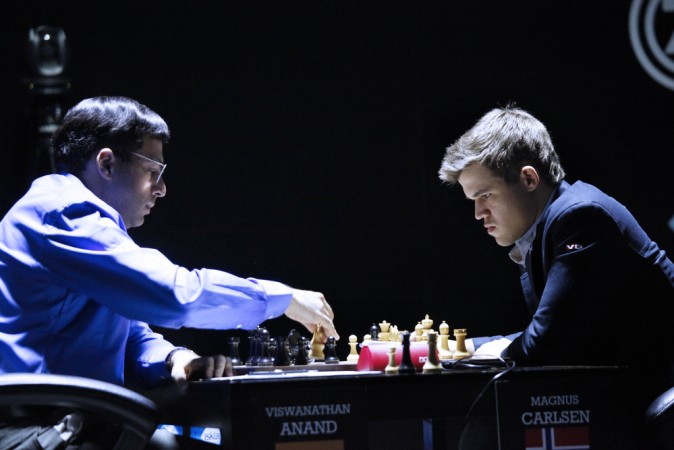 Challenger Viswanathan Anand will be desperate to produce a quick comeback, and thereby improve his prospects of recapturing the World Chess Championship once again, when he takes on defending champion Magnus Carlsen in Game 7 in Sochi on Monday.
Where to Watch Live
Game 7 of the World Chess Championship 2014 in Sochi is set for a 3pm local time (5.30pm IST, 1pm CET) start. There will be no live coverage on TV but the game can be watched via free live streaming online on the FIDE Live Video Feed or with Analysis and Live Video
Courtesy of a lucky win in Game 6, Carlsen has now taken a one-point lead for the second time in the championship, and is now up 3.5-2.5 at the halfway stage, with six more games remaining.
Anand failed to spot a massive blunder by the Norwegian prodigy in the sixth game and made a bigger mistake of his own in response, to lose the crucial game on Saturday.
Having played well in the first five games, the Indian Grandmaster will be disappointed to have missed Carlsen's error in the 26th move of Game 6 completely.
The world champion was cruising when he produced the rare blunder in the 26th but Anand failed to spot it and made a different move in response, allowing the 23-year-old to regain his advantageous position.
It will go down as one of the worst double blunders in World Chess Championship history.
"When you don't expect a gift, you don't look for it," stated Anand, explaining why he failed to spot Carlsen's blunder, which could have even won him the game.
The 44-year-old will now be keen to forget the tragic game and move on, as he looks to draw level in the championship once again, heading into Game 7.
Sunday was a rest day and that will help. The rest day after the big defeat in Game 2 had given Anand the time to recover and come back strongly to beat Carlsen handsomely in the third game. Now, the veteran will be hoping to use the breather once again to chart out a plan and bounce back quickly.
What does not help the five-time champion is the change of colours at the halfway stage. The change in colours for Game 7 means Carlsen will once again play with white pieces.
However, Anand's camp will fancy their chances with Carlsen making several errors in the World Championship this time, as opposed to last year's edition in Chennai where he played like a well-oiled machine.
With the world champion looking vulnerable and error-prone, the priority for Anand is to defend well with the black pieces today and not to lose further ground. The Indian will surely have his chances in the last five games.
Where to Watch Live
Game 7 of the World Chess Championship 2014 in Sochi is set for a 3pm local time (5.30pm IST, 1pm CET) start. There will be no live coverage on TV but the game can be watched via free live streaming online on the FIDE Live Video Feed or with Analysis and Live Video