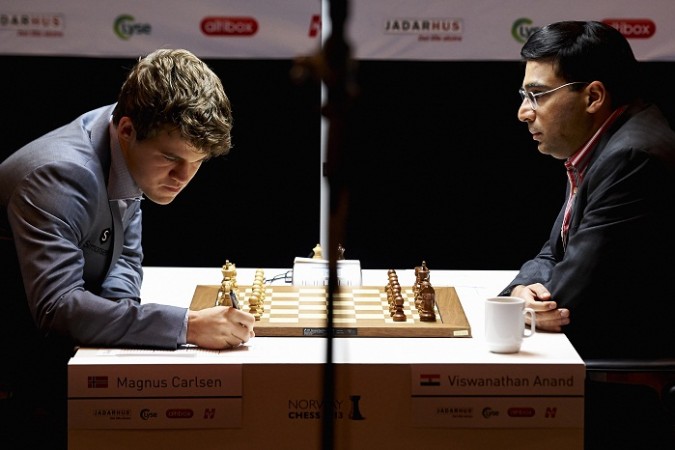 A second straight draw means the World Chess Championship match between Viswanathan Anand and title holder Magnus Carlsen remains tantalisingly poised heading into Game 6 of this mouthwatering contest in Sochi.
Anand could not quite manage to pull out a second straight victory with the white pieces on Friday, leaving the match tied at 2.5-2.5.
The Indian had the advantage for the majority of Game 5, but could not quite push forward enough to worry Carlsen and pick up that win.
Carlsen, as has been the case with every single opening with the black in this match, again opted for a different opening, but the Norwegian also could not do enough to throw Anand off his game and take a win, much like he did in the World Chess Championship last year in Chennai.
"Neither of us could find anything better," said Carlsen after the draw in Game 5 on Friday.
"It was better today than in my last game with black. Now I have a couple of games [with the white pieces], and I am looking forward to them."
How Anand attacks, if he does attack that is, while playing with the black could decide the outcome of this World Chess Championship contest. After all, in a way, the onus is on the challenger – in this case Anand – to take the initiative and try and force a mistake or two from the world number one.
Carlsen will know he has the ability to pick up wins with the white pieces in the next couple of matches – the pieces pattern gets reversed after Game 6, meaning Carlsen will again start with the white in Game 7 on Monday -- even if he has been pegged back by Anand in the last three games.
"It was OK, I guess," said Carlsen when asked about Game 5 and its opening. "I mean, he was also better prepared. He knew it was a critical game with the white.
"I could have played more accurately. No doubt, it will be more pleasant to play with white."
Anand has certainly looked like a much better player – more like his own self – than he did in the World Chess Championship match in Chennai, when he was defending his title. However, the Indian legend remains keen on just staying in the moment and not looking forward too much, despite the encouraging beginning.
"I don't want to analyse myself too much during the match," said Anand. "When there are specific problems coming at the board, I don't want to wander too much."
Where to Watch Live
Get the Report HERE
Carlsen vs Anand Game 6 of the World Chess Championship 2014 in Sochi is set for a 3 pm local time (5.30 pm IST, 1 pm CET) start. There will be no live coverage on TV in India, but Anand vs Carlsen Game 6 can be watched via free live streaming online on the FIDE Live Video Feed or with Analysis and Live Video.