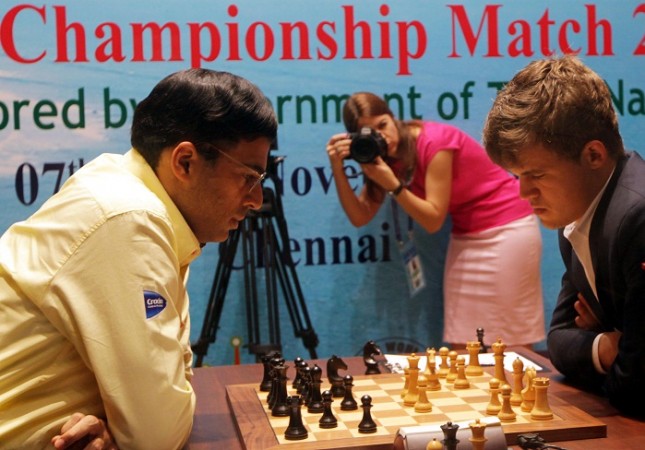 The World Chess Championship is tantalisingly poised at 2-2 after four games of this exciting contest between the world champion Magnus Carlsen and challenger Viswanathan Anand, and Game 5 in Sochi on Friday promises to be no less thrilling.
Anand, in the last couple of games, has fought back brilliantly to seize the initiative, which was headed Carlsen's way after the first two games of this title match.
Carlsen looked on course to defend the title he won by beating Anand in Chennai last year, after troubling the Indian in the first game, before clinching the first full point of the contest in Game 2.
However, Anand showed his powers have far from waned – especially against Carlsen -- with a terrific victory in Game 3, before pulling out a draw with the black pieces.
"In Chennai after four games the score was 2-2, here also the score is 2-2, so there is no difference," said Carlsen after the draw in Game 4.
While the scores remain the same, there is a marked difference in the manner in which the battle has played out in Sochi when compared to Chennai. In the World Chess Championship last year, Carlsen was putting Anand under constant pressure before the Indian eventually caved in.
However, in the 2014 World Chess Championship, Anand has looked like a different beat, no longer feeling that pressure and the difficulty to cope with the Norwegian's skills on the chess board.
Anand heads into this Game 5 on Friday with momentum clearly on his side, and if the Indian maestro can convert that momentum into a win with the white pieces, then crucial control will be on his side.
Putting Carlsen under pressure and throwing him off his game, while minimising his own mistakes have so far worked perfectly for Anand, particularly in the last two games, and the 44-year-old multiple world champion will hope for more of the same in Game 5 against the world number one.
"This match is exciting and intriguing," four-time women's champion Susan Polgar was quoted as saying by IANS. "Anand did not play well in the first two games. He was in trouble in Game 1 and lost in Game 2.
"After demonstrating his superior home preparation in Game 3 to score his first win against Carlsen in classical chess in many years, he did well in Game 4 to hold [his opponent to a draw] with black.
"Even though the score is the same as in Chennai after four games, it seems that Anand is more relaxed in Sochi."
Being relaxed can do wonders to your game and confidence and Anand will certainly hope it translates into another victory come Friday, while Carlsen will be hoping again to find that hold he had on Anand previously.
Where to Watch Live
Get the Report HERE
Game 5 of the World Chess Championship 2014 in Sochi is set for a 3 pm local time (5.30 pm IST, 1 pm CET) start. There will be no live coverage on TV, but Game 5 can be watched via free live streaming online on the FIDE Live Video Feed or with Analysis and Live Video.