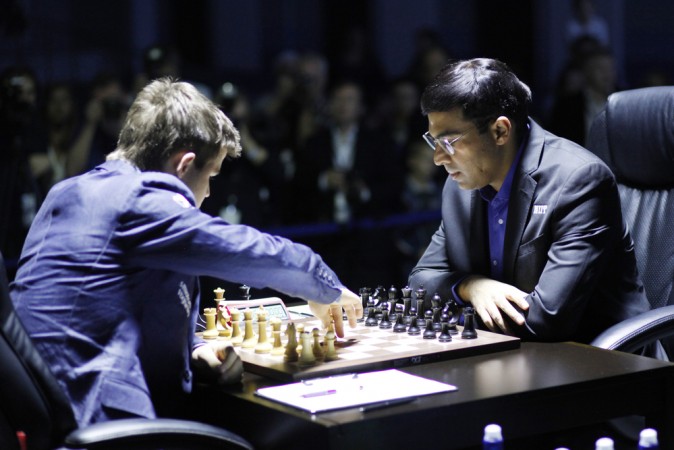 Viswanathan Anand admitted that he pressed the self-destruct button, after losing Game 2 of the 2014 World Chess Championship to reigning champion Magnus Carlsen in Sochi on Sunday.
Carlsen, playing with white pieces, tore apart the Indian Grandmaster's Berlin defence and wrapped up the game in 35 moves, inside four hours.
Game 1 on Saturday had ended in a draw and - with Sunday's win - the Norwegian prodigy has now taken a 1.5-0.5 lead in the championship.
Anand made quite a few poor calls in the game, and the blunder with h5 allowing Carlsen to take his queen to b7 pretty much killed the contest.
The five-time world champion also failed to manage his time properly; he took almost 30 minutes for two moves (19 and 20), leaving himself with just over 20 minutes for 15 moves later.
Speaking at the post-match press conference, Anand conceded that he let himself down by throwing the game away.
"It is pity I threw it away," IANS quoted the 44-year-old as saying.
Meanwhile, Carlsen rubbed salt into the wounds of Anand by pointing out that the veteran could have saved the match by defending better but he cracked under pressure.
"I tried to put him under pressure. He could have defended well," the world champion stressed.
Susan Polgar, a four-time women's world champion, also felt that Anand dug his own grave in Game 2 by making some below par moves.
"Vishy self destructed today. I think he created a big hole for himself and it is nearly impossible to get out of," the American stated.
Meanwhile, it has emerged that Carlsen was keen to finish the game before the English Premier League between Swansea City and Arsenal started.
According to The Times of India, the defending champion was looking forward to watching the football match as he follows Swansea striker Wilfried Bony closely.
"One of Carlsen's closest friend saying he wants to win quickly today, because of Swansea-Arsenal," the report quoted a source.
And the 23-year-old did manage to stick to his plan, beating Anand minutes before the match started.
Game 3 is scheduled for Tuesday after Monday's rest day.