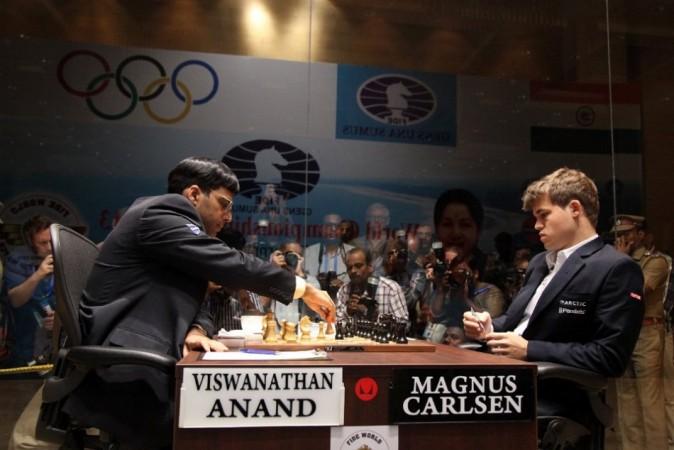 Challenger Viswanathan Anand will take on defending champion Magnus Carlsen in the 2014 World Chess Championship, which starts in Sochi on Friday.
The championship this year is effectively a rematch of last year's showpiece in Chennai as both Carlsen and Anand had appeared in the 2013 edition of the competition, though Anand was the world champion then and Carlsen the challenger.
The five-time world champion lost to the Norwegian prodigy 6.5-3.5 after 10 of the 12 scheduled games, handing the then 22-year-old his first ever world championship.
Anand has now returned as a challenger this year by winning the Candidates Tournament held in Khanty-Mansiysk in March, also becoming the second former champion after Anatoly Karpov (in both 1987 and 1990) to win a Candidates Tournament. The 44-year-old also became the second oldest person to win a Candidates Tournament, behind Viktor Korchnoi (in both 1977 and 1981).
Meanwhile, Carlsen - the second youngest grandmaster in chess history - won the Rapid and Blitz titles this year to become the first player in history to be the reigning world champion in all three formats.
The 2014 championship will take place in Sochi between 7 and 27 November. Carlsen enters the competition as a heavy favourite, while Anand is seen as the underdog. However, it is widely expected that the championship would be a much closer affair this time.
Anand seems to be in fine form of late and has the momentum as he followed up his performance in the Candidates Tournament by winning the Bilbao Masters.
Carlsen, on the other hand, has had mixed fortunes. Though he started the year well by winning the Rapid and Blitz titles, the Sinquefield Cup in the US two months ago - where he finished a distant second to Fabiano Caruana of Italy - was a massive upset and a major blow.
This is the first time that the same opponents are meeting in back-to-back World Championships since Garry Kasparov and Karpov (in 1984, 1985, 1986, 1987 and 1990).
Format, Points System
The championship will have 12 games and if the scores are still level, the tie-break games will come into play. One point will be given for a win, none for defeats and half a point to each player for a draw. The first player to reach 6.5 points will be declared the world champion.
The time control system for the 12 games will be: 120 minutes for the first 40 moves, 60 minutes for the next 20 moves and 15 minutes for the rest of the game.
Venue
All games will be held at the Olympic Media Center located in the Adler City District of Sochi, next to the Olympic Stadium.
Timings
All games will start at 4.30 pm IST (3 pm local time, 11 am GMT).
Schedule
7 November, Friday: Opening ceremony
8 November, Saturday: Game 1
9 November, Sunday: Game 2
10 November, Monday: Rest
11 November, Tuesday: Game 3
12 November, Wednesday: Game 4
13 November, Thursday: Rest
14 November, Friday: Game 5
15 November, Saturday: Game 6
16 November, Sunday: Rest
17 November, Monday: Game 7
18 November, Tuesday: Game 8
19 November, Wednesday: Rest
20 November, Thursday: Game 9
21 November, Friday: Game 10
22 November Saturday: Rest
23 November, Sunday: Game 11
24 November, Monday: Rest
25 November, Tuesday: Game 12
26 November, Wednesday: Rest
27 November, Thursday: Tie-break
28 November, Friday: Closing ceremony