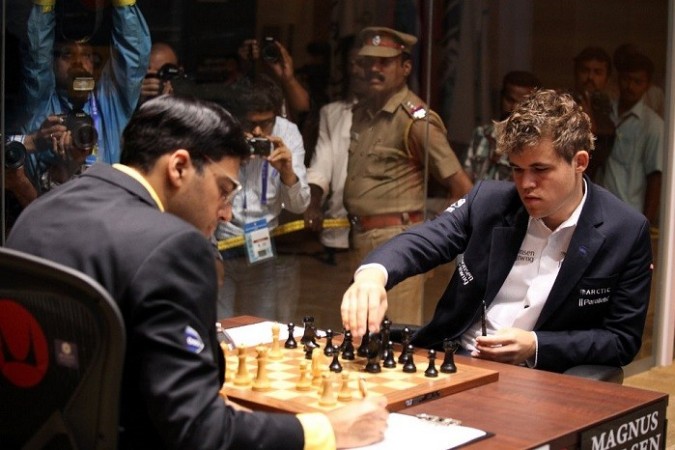 Viswanathan Anand will take on defending champion Magnus Carlsen of Norway in the 2014 World Chess Championship, which starts in Sochi on Friday, as the underdog.
The five-time world champion had lost to Carlsen 6-1/2-3-1/2 after 10 of the 12 scheduled games in Chennai last year, handing the 22-year-old his first ever world championship. But the Indian Grandmaster has now returned as a challenger by winning the Candidates' tournament earlier this year.
For the full schedule, date, timings and other details of the 2014 World Chess Championship, click HERE.
The 2014 world championship will take place in Sochi between 7 and 27 November, and Anand is confident that he has buried the ghosts of Chennai, where he underperformed big time, and will put up a good show in Russia.
"Chennai is a closed chapter. Lesson learnt and book closed. Sochi is a new match... a new challenge," the 44-year-old told First Post.
"I was happy to be back in championship mode almost months after Chennai. So I enjoyed training and preparing for Sochi. It doesn't matter if you are challenger or a champion. It's either him or me in Sochi. So I'm happy to take my chances."
Anand seems to be in fine form of late and has the momentum, as he followed up his performance in the World Championship qualifier by winning the Bilbao Masters.
Carlsen, on the other hand, has had a mixed year. Though he started well by winning the Rapid and Blitz titles to become the first player in history to be the world champion in all three formats, the Sinquefield Cup in the US two months ago, where he finished a distant second to Fabiano Caruana of Italy, was a big blow.
However, Anand is taking nothing for granted and stressed that Carlsen's lack of form is not an indication of how he might perform in Sochi.
"In a match, you appear in a different avatar. What you did before isn't on trial... only the 12 games you play. So I'm not really giving too much importance to his play [earlier in the year]," the Indian pointed out.
And, though Anand enters the rematch as the underdog this time, he has the backing of several pundits to produce a better show in Sochi.
"This time it will be much closer than last time," PTI quoted Arjuna awardee and Grandmaster Abhijeet Gupta as saying.