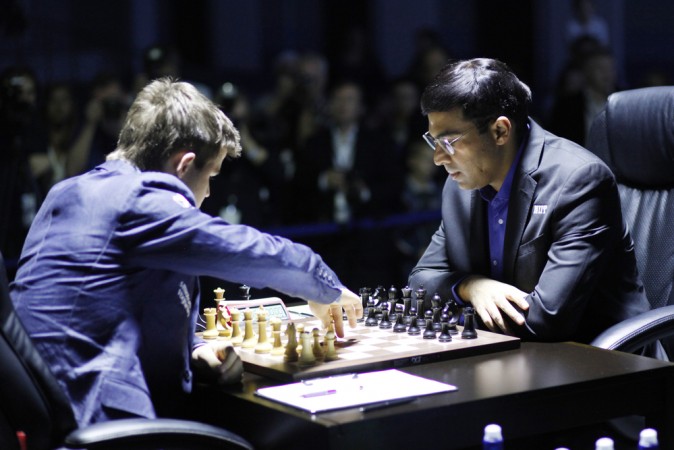 Challenger Viswanathan Anand hammered defending champion Magnus Carlsen in Game 3 of the 2014 World Chess Championship in Sochi on Tuesday, condemning the Norwegian prodigy to one of his worst career defeats, to even the score in the title race.
The Indian Grandmaster, who had lost Game 2 on Sunday, came up with a grand comeback - producing one of his best games in recent history - to tear down Carlsen's defence with sheer confidence and panache.
Anand, who many thought would be down and out after the heavy defeat in Game 2, was surprisingly on the top of his game on Tuesday, right from the word go. The five-time world champion produced a superb opening, showcased immense calculation and managed his time ever so well.
Carlsen, on the other hand, was all over the place today. The Norwegian prodigy was not in the game even for a moment as his veteran opponent pummelled him from all angles with his white pieces from the start itself.
Game 1 had ended in a draw, and the scores are now level at 1.5 each.
The competition will have 12 games, and the first player to reach 6.5 points will be declared the new world champion.
This world championship has effectively been a rematch of last year's showpiece in Chennai as both Carlsen and Anand had appeared in the 2013 edition of the competition, though the Indian was the world champion then and the Norwegian the challenger.
Anand lost to Carlsen 6.5-3.5 in Chennai after 10 of the 12 scheduled games, handing the then 22-year-old his first ever world championship.
Reactions
Wow that ended far quicker than I expected. Vishy wins in 34 moves with Magnus' normal tenacity deserting him. #CarlsenAnand

— Gawain Jones (@GMGawain) November 11, 2014
Vishy wins! Powerful opening,precise calculation, good technique,excellent time management. He played,dare I say it, like a World Champion.

— Jonathan Rowson (@Jonathan_Rowson) November 11, 2014
Just a fantastic game from start to finish by Anand. I am really curious if he knew the Toma game though. Not sure I believe his answer :) — Hikaru Nakamura (@GMHikaru) November 11, 2014
We are at an interesting point in time. Magnus lost a WC game for the 1st time. How will he handle it? #CarlsenAnand @anandcarlsen14

— Susan Polgar (@SusanPolgar) November 11, 2014