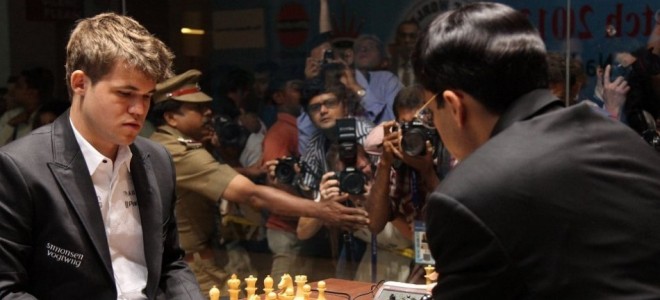 Viswanathan Anand, the undisputed World Champion since 2007, faces arguably the most difficult challenge of his illustrious career, when he takes on 22-year-old world no.1 Magnus Carlsen in the eighth game of the 2013 World Chess Championship in Chennai on Tuesday.
The Norwegian prodigy is leading the tie 4.5-2.5 and, with just five games remaining in the championship, Carlsen - an overwhelming favourite going into the competition - has one hand on the crown.
Where to Watch Live
Game 8 starts at 3pm IST on Tuesday. Click HERE to watch the action live on the official FIDE website. Click here to follow the game live.
Overview
After the first four games ended in draws, Carlsen showcased aggression and remarkable endgame skills to post wins in Game 5 and 6. The seventh game on Monday ended in a draw as well, with Anand once gain failing to break through the youngster's defence. The 43-year-old again struggled to find an opening, despite playing with white pieces.
Anand allowed the Berlin Ruy Lopez, in spite of achieving little against this system in the earlier games, while Carlsen impressed with yet another closed Berlin defence, which earned him draws in the previous outings.
Carlsen is confident the two-point lead will give him a psychological upper hand in the next game, as the tie moves towards the deciding phase.
"Of course there are some psychological aspects. For instance, there was no doubt that the outcome of game five influenced the next game. I think that is unavoidable in a match. You try to move on at best as you can. But it is not so easy," the Norwegian pointed out.
Anand now faces the seemingly impossible task of bouncing back, or at least putting up a fight. And it's now up to the Indian Grandmaster to show the experience, composure, preparation and improvisation, which made him a five-time world champion.
Schedule
The remaining matches take place from 19 to 26 November. Five classical games are scheduled, each starting at 3 pm IST. There will be rest days after games 8, 10 and 11. If the match remains tied after Game 12 on 26 November, tie-break games will be played on the 28th.