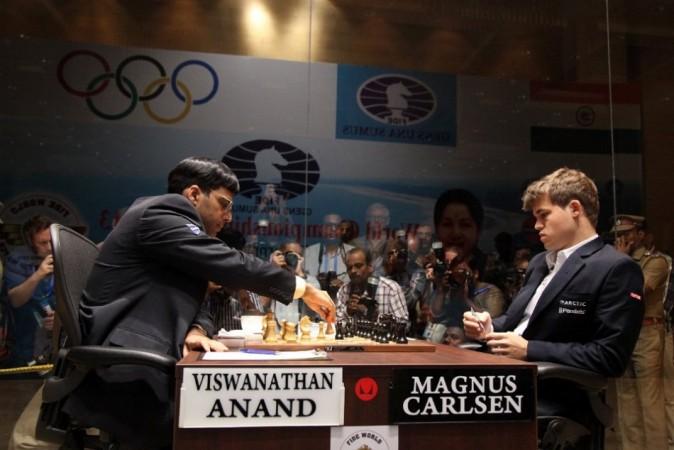 With neither Viswanathan Anand nor Magnus Carlsen blinking after the first four games of the FIDE World Chess Championship, it will be interesting to see who, if anyone, grabs the advantage in Game 5 in Chennai on Friday.
The first four games of the epic clash has ended in draws, leaving the door wide open for one of Anand or Carlsen to walk through with a memorable game.
Where to watch Live
Game 5 starts at 3 pm IST on Thursday afternoon. You can catch the game free live online by clicking HERE. To follow the moves Live, click the link HERE.
Anand did really well to come back from a tricky position in Game 4 and force a draw, and the defending world champion admitted he made a few mistakes right at the top.
"Something went wrong in the opening" he said after Game 4 on Wednesday ended in a tense and exciting draw. "I made one illogical move after the next and then I missed something with this knight move. And then I was just basically lost.
"I am sure he had many wins in what he played. Towards the endgame it was a little bit scary in this four rooks endgame but finally when I gave a check on a8 and then moved my rook, I was safe," Anand said.
"I was lucky twice. Just before the time control I could give a check and made my next move and reached the time control. It happened twice."
Carlsen was pretty happy with his performance in the previous encounter, in a world championship which has seen the player with the black pieces surprisingly have the edge.
"I was doing pretty good, and then when I won the pawn I was very optimistic," Carlsen said. "He kept on finding resources and I was missing some little things. He really fought very well. It's bit of a pity to have spoiled such a good position but it was a very good fight."
Anand will now play with the black pieces while Carlsen has the advantage, on paper, not going by the form in the series, with the white.