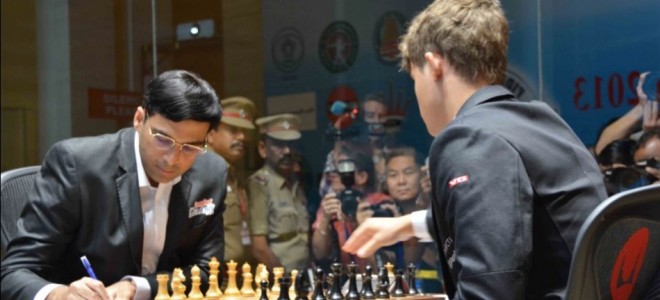 Viswanathan Anand takes on Magnus Carlsen in the third game of the 2013 World Chess Championship at the Hyatt Regency Hotel in Chennai on Tuesday, with the first two games ending in a draw.
The scores are now tied 1-1, with 10 more games to go to decide the championship.
Where to Watch Live
Game 3 starts at 3pm on Tuesday. Click HERE to watch the action live on the official FIDE website. Click here to follow the game live.
Overview
Anand, the game's undisputed champion since 2007, was impressive in the opener on Saturday but the 43-year-old was on the back foot in Game 2 on Sunday, despite starting with white pieces, as it was Carlsen all the way.
"It's my turn to offer a slight apology today. I had to be a bit prudent but things will get interesting," said Anand, after avoiding any big risks moves in Game 2.
Meanwhile, Carlsen pointed out that Game 2 was not very different from the Saturday's opener.
"I feel it was a little but similar to my earlier game," the Norwegian prodigy said.
Experts are divided over who will walk away with the title, but Carlsen has emerged as the slight favourite; a tag that the 22-year-old is happy to carry.
"I don't know who the favourite is. In general, I expect to do well in tournaments I play in. If I manage to play my best, I can expect the best results," Carlsen stressed.
The clash between five-time champion Anand and world no.1 Carlsen has been one of the most anticipated sporting events of the year, with comparisons drawn to the historic meeting between Bobby Fischer and Boris Spassky back in 1972.
Russian grandmaster Vladimir Kramnik, who lost to Anand in 2008, feels the world champion will find it difficult against Carlsen.
"Carlsen has much more energy, more motivation, as he has not been a world champion yet. Anand is somewhat intimidated by Carlsen. He has not been confident playing against him -- he's scared of him, I would say," Kramnik.
Schedule
The remaining 10 matches take place from 12 to 28 November. 10 classical games are scheduled, each starting at 3 pm IST. There will be rest days after games 4, 6, 8, 10 and 11. If the match remains tied after the 12th game on 26 November, tie-break games will be played on the 28th.