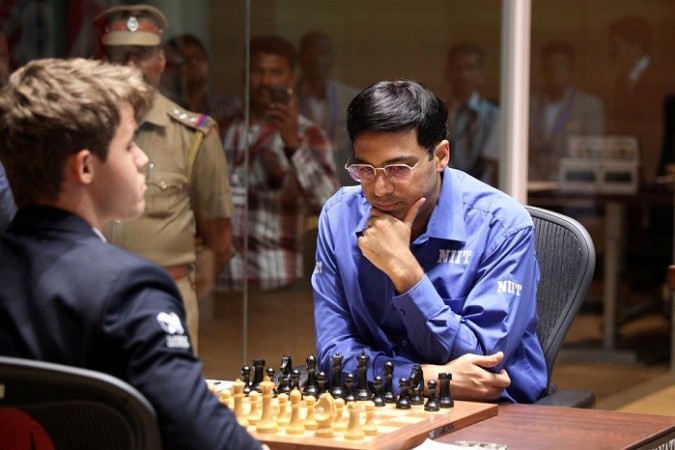 Viswanathan Anand has been backed into a corner by Magnus Carlsen, and whether he comes out of that particular corner fighting in the next couple of games will decide who will hold the world championship title.
Anand starts his attempt at fighting his way back into the tie, with Game 9 in Chennai on Thursday.
Where to Watch Live
Game 9 starts at 3 pm IST on Thursday afternoon. You can catch the game free online through live streaming by clicking HERE. To follow the moves Live, click the link HERE.
The Indian great and defending champion, currently trailing 3-5, was up against it after Games 5 and 6, which Carlsen won to take a two-point lead. The next two games have seen two rather uneventful draws, and it will be up to Anand to take the initiative, with the 22-year-old Carlsen sitting pretty at the moment and on the verge of topping the much more seasoned veteran.
Anand opted for the fairly safe Berlin defence in Game 8, which then almost inevitable led to a draw, when many expected the Indian legend to probably go for a more aggressive approach to try and reduce the deficit.
"Generally a fairly solid system for white," Anand said after Game 8. "Not entirely without chances if black plays inaccurately. The only interesting moment was when 23...Qg5, then 24.h4 is very strong. So, after Qd8 we liquidated to a king and pawn ending.
Asked why he didn't go for the Sicilian, Anand said: "I did not really know what his intentions were. Even the Sicilian, if you want to play the dry system they are available.
"It is not like there were clear options there. I thought little bit [two minutes] and decided to go for this. Well the match situation speaks for itself. It is my job to liven it up. I guess I will try in the next game."
Liven up the tie Anand needs to do definitely, but as the World Chess Championship has wore on, Carlsen, the world number one, has just kept looking better and better, with confidence visibly oozing from the young Norwegian.
Anand, though, knows the onus is completely on him to make the moves, telling ones at that, and the 43-year-old admitted he would be looking for a win starting Game 9.
"Well, the match situation is fairly clear now," he said. "This was a short two relatively easy games. Obviously I have to try in the next one."