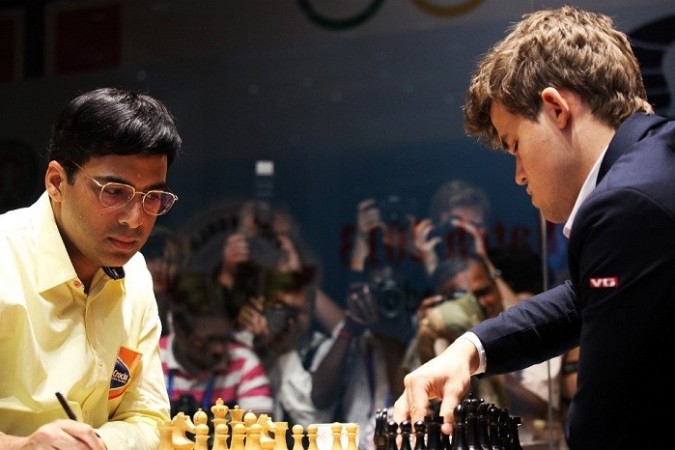 Half a point in the next three remaining games and Magnus Carlsen will be crowned the new world champion.
A mistake from Viswanathan Anand gave Carlsen an improbable win in Game 9 - improbable, because Anand was on top for most of the game - with it giving the world number one an almost unassailable 6-3 lead.
Where to Watch Live
Game 10 starts at 3 pm IST on Friday afternoon in Chennai. You can catch the game free online through Live Streaming by clicking HERE. To follow the moves Live, click the link HERE.
Overview
All Carlsen has to do now is not lose any one of the final three Games and the world chess title is his. "It was really tough game," Carlsen said. "From the opening it was clear it is going to be unbalanced. And I run a serious danger of getting mated which I hadn't in previous games.
"I had to deal with the situation. I had to create counterplay. It was really tough game. I mean, there are an amazing number of complicated lines here. I wasn't sure. As it happens my moves were not that complicated. I had to play the only move all the time. Fortunately for me, he blundered."
The disbelief on Anand's face when he realised his calamitous error was there for everyone to see, as the Indian legend, who was pretty much the dominant factor in the game with the white pieces, was left to ponder what might have been.
"The position was very, very interesting. Here I spent a hell of a lot of time essentially getting into this position," Anand said. "If the king goes to h8 usually it looks like it should be lost. As I have the extra resource of Qf7 check. Here I was anticipating Qh8. Because f6, g6, Qh4, b2 and more or less similar idea like in the game.
"The difference is when Rb1 happened he has Qa5. But after this, I am kind of forced to go in with Rf4. What I missed initially was this: I wanted to play Bh3, Bxh3, Rxh3, Qd7, Rh5, Qf5, g6 I thought was a draw. But later I saw Qb6, Qb1+."
Anand was on the aggressive right from the beginning, knowing the importance of a win, and despite eventually losing the crucial Game 9, the 43-year-old insisted he had no regrets, as it was a chance he just had to take considering the state of the tie.
"I needed to change the course of the match rather drastically," he said. "That's why I kind of went for this. I had a rest day to kind of get familiar with all this. Because it is all very complicated line.
"Still I think I had to do this. This was the correct choice. I had no regrets for this."
Anand is now forced to win the final three games to have any chance of defending his world chess title. However, with the way the 22-year-old Norwegian "Mozart" is playing, that prospect looks extremely unlikely.