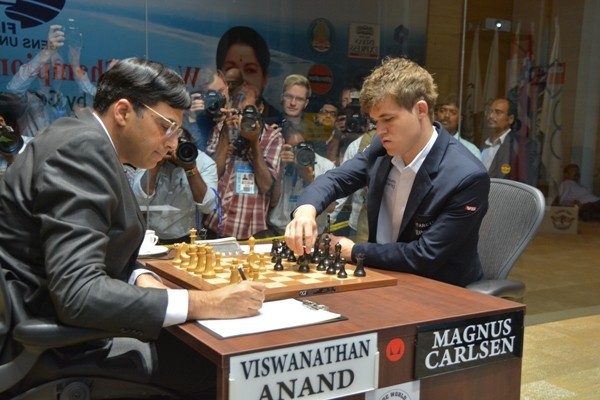 Defending champion Viswanathan Anand failed to break through the defences of challenger Magnus Carlsen of Norway once again and had to settle for a draw in Game 7 of the 2013 World Chess Championship in Chennai on Monday.
Game 7 turned out to be another disappointing outing for Anand, after two back-to-back losses in the previous games. The 43-year-old again struggled to find an opening, despite playing with white pieces.
The Indian Grandmaster allowed the Berlin Ruy Lopez, in spite of achieving little against this system in the earlier games, while Carlsen impressed with yet another closed Berlin defence, which earned him draws before as well.
Carlsen now leads the 12-game match 4.5 to 2.5, with just five clashes remaining. The 22-year-old is now clearly an overwhelming favourite to clinch the title on the holder's home turf. Anand, the undisputed champion since 2007, is staring down the barrel and needs two victories, sooner than later, to bounce back and put up a fight.
However, Anand remains positive and stated he felt this tie ending a draw was a welcome break, after losing the last two games.
"I chose the same line both of us played quite a bit in the past, after the last 2 games lost, it is definitely good to break the streak. The championship is so far unpleasant for me, there is no getting around that, but I'll keep trying," the Indian said, in the post-game press conference.
Meanwhile, Carlsen stressed that he is not planning on protecting the lead and would instead play for a win in Game 8 on Monday, which would pretty much seal the championship.
"Overall, that is the idea," the youngster said.