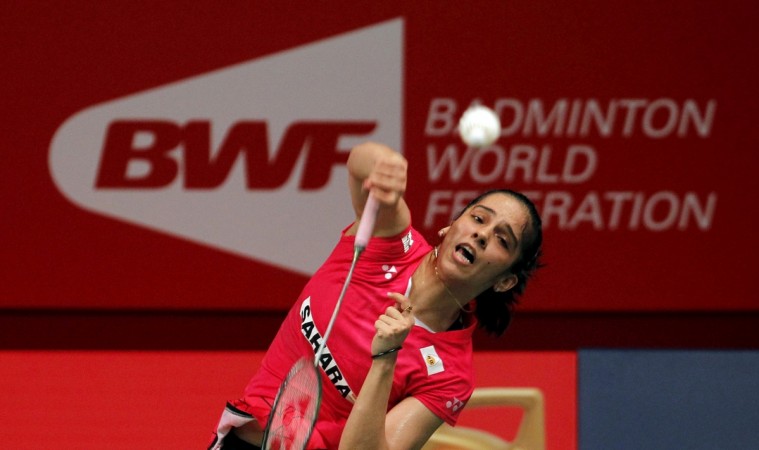 Ace Indian badminton player Saina Nehwal, who is currently undergoing training under coach Vimal Kumar in Bangalore, has credited him for helping her achieve positive results during the year. "It has been a phenomenal year for me and I am thankful to my coach for that. Moving base to Bangalore has made a huge difference," Saina told NDTV.
Apart from winning the silver medal in the world championship, Saina also won the India Super Series and Indian Open Grand Prix Gold. One can even expect her to bring more laurels to the country with a number of key tournaments remaining in the year, including BWF Super Series Masters Finals.
Just before the 2014 Incheon Asian Games, Saina took the decision to split with her former coach Pullela Gopichand and train under Vimal Kumar. She took the decision after she felt she was not receiving enough attention from Gopichand.
Badminton fans were surprised by Saina's decision as she had become a major force in badminton under Gopichand, winning a number of titles. But to be fair, Saina has been equally performing well under Vimal Kumar.
When Saina was training under Gopichand, she failed to bring home a medal from the world championship despite numerous attempts. She had failed to progress beyond the quarter finals stage. But after joining hands with Kumar, Saina managed to play some quality badminton to reach the finals of the competition and win a silver medal.
"I am disappointed, but also relieved. Getting beyond the quarter-final stage was a mental block for me, glad I got past that. I didn't expect to be in the final but reaching the final was overwhelming," Saina said.
However, Saina's performance in the final was not one would have expected from the top shuttler. She was defeated by Carolina Marin in straight sets, 21-16, 21-19.
Saina does not believe that Marin played amazing badminton to win the title, but basic errors cost her the game. "Carolina (Marin) didn't play extraordinary badminton. I made errors that I could have avoided easily," Saina added.