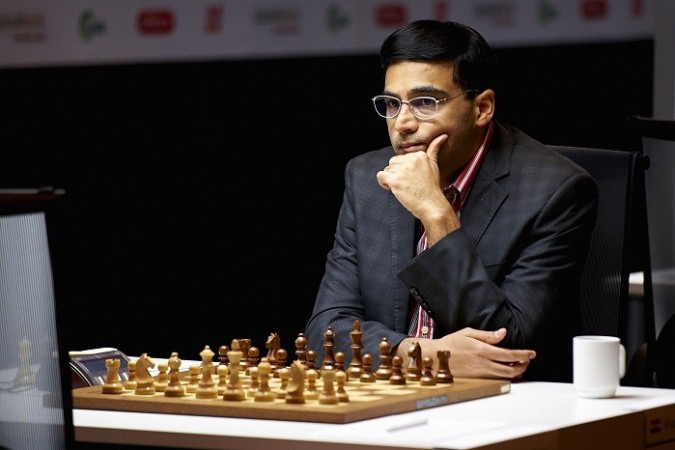 Viswanathan Anand is now the favourite to face world champion Magnus Carlsen later this year as he tops the standings after round nine of the ongoing World Candidates Tournament in Khanty Mansiysk, Russia.
With five rounds to go, Anand is at 6 points followed by Levon Aronian at 5. In their personal encounter in round 8, Anand beat Aronian. In round 9, Anand continued his victorious surge in the battle of two former world champions where he topped Veselin Topalov. Aronian, however, couldn't pull off a win, going down to Mamedyarov Shakhriyar in the same round.
Anand, who will play with the white pieces, will face Shakhriyar on Tuesday in round 10 . The Azerbaijani chess Grandmaster stands at 4.5 points, the same as Vladimir Kramnik and Sergey Karjakin .
Though the Indian Grandmaster is at the top of the standings table now, he started off the tournament as an underdog mainly because of the defeat he suffered at the hands of Carlsen in Chennai last year followed by mediocre performances from the start of 2014. But, the victory over top-seeded Aronian has put things back in place.
There are rising concerns over Anand's mental fitness, but given that Monday was a rest day, Anand should be fresh and focused to face the challenge posed by Shakhriyar.
Where to Watch Live
Round 10 begins at 9 am GMT, 2.30 pm IST on Tuesday. Viewers can watch the action online via free live streaming HERE, HERE or HERE
Round 10 Matches:
Sergey Karjakin (Rus, 4.5 points) vs Dmitry Andreikin (Rus, 4 points)
Vladimir Kramnik (Rus, 4.5 points) vs Peter Svidler (Rus, 4 points)
Levon Aronian (Arm, 5 points) vs Veselin Topalov (Bul, 3.5 points)
Viswanathan Anand (Ind, 6 points) vs Shakhriyar Mamedyarov (Aze, 4.5 points).