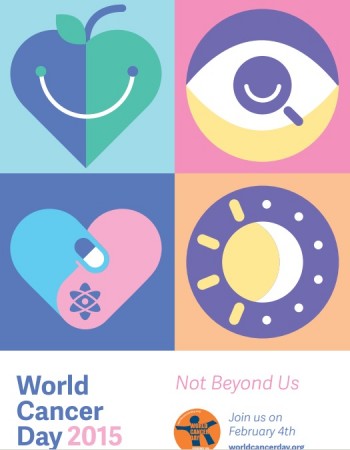 World Cancer Day is an important United Nations observance that is marked on 4 February each year. On this day, the World Health Organisation and the International Agency for Research on Cancer (IARC) take initiatives every year to promote ways to relieve the world from this deadly disease that claims millions of lives each year.
The theme of World Cancer Day 2015 will be "Not beyond us", which aims at taking a "positive and proactive approach to the fight against cancer", and tries to highlight that the solutions to eradicating or curing cancers do exist and they are within people's reach, a UN statement states.
Cancer can be defined as the "uncontrolled growth and spread of cells" which can affect almost any part of the body. The cells grow rapidly and can spread to other parts of the body if not removed or cured.
Many types of cancer can be cured, if detected early, using procedures such as surgery, radiotherapy or chemotherapy. According to the UN, most of them can be easily prevented if common risk factors, such as smoking, are avoided.
According to this year's campaign tag-line, the world should begin prepping towards implementing important knowledge in the areas related to the "prevention, early detection, treatment and care" of cancer.
In observance of World Cancer Day 2015, we have rounded up 10 most important facts that every person needs to know about the disease (courtesy to the official UN and WHO websites):
Deaths from cancer are projected to rise each year. An estimated 13.1 million cancer-related deaths are expected to occur in 2030.
About 22 per cent of the global cancer deaths and 71 per cent of global lung cancer deaths are because of smoking – which makes the habit the most important risk factor.
About 70 per cent of the deaths tend to occur in low-and middle-income countries. This statistic was based on a 2008 study.
About 20 per cent of the cancer deaths occurring in low and middle income countries are due to cancer-causing viral infections like HBV/HCBV.
Over 30 per cent of cancer deaths are due to five most important behavioural and dietary factors: high body mass index, habit of taking low amount of fruit and vegetable, lack of physical activity, tobacco use and alcohol use.
In 2012, about 8.2 million deaths occurred due to cancer; and the disease is considered the leading cause of global deaths.
The five most common types of cancer that cause most number of deaths around the world are: Lung, stomach, liver, colon and breast cancer.
The most frequent types of cancer differ between men and women.
There are over 100 types of cancers and any part of the boy can be affected.
In 2008, 7.6 million people died of cancer, which amounted to almost 13 per cent of all deaths worldwide.