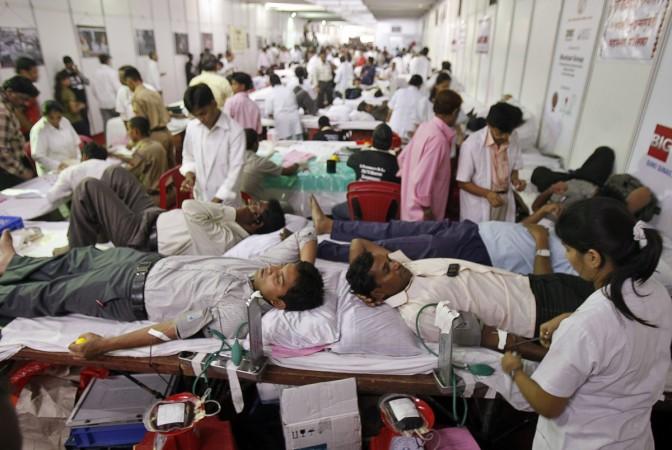 One of the most leading causes of acute shortage of blood for transfusion in India may be the unwillingness of a majority of its people to donate blood. In fact, a poll conducted by Curofy, an online network of 60,000 doctors, found that 78.1 percent of the medicos who participated in its latest survey said that people still believe blood donation will make them weak.
An official statement released by Cuofy on the World Blood Donor Day said that nearly 2,560 doctors participated in its latest poll. Of them, 18.7 percent of doctors said that people are concerned that they may acquire various infections, particularly HIV, if they donate blood.
"It is totally a myth and very psychological perception when a donor sees blood going out of his body. Our body recovers 100 percent after blood donation, rather I would suggest that blood donation is a good activity," Deepak Chauhan from the department of Emergency Medicine, Fortis Healthcare, said in an official statement.
A recent reply to a Right to Information query had revealed that 2,234 Indians were infected with the HIV virus in the last 17 months due to blood transfusion. The data was released by the National AIDS Control Organisation (NACO).
Doctors, however, said that adoption of precautionary measures may help prevent the spread of infections by blood transfusion.
"There is a huge misconception that donating blood weakens your body and makes you susceptible to infections. With the new antiseptic precautions chances of any infection and other issue are negligible now," Dheeraj Gautam, head of department, Histopathology, Medanta said.
Meanwhile, the World Health Organization has urged for non-paid and voluntary blood donations to bridge the gap between blood demand and supply, especially in low-income countries. "Voluntary, unpaid blood donation is the act of giving life – the greatest gift any person can give or receive," Margaret Chan, WHO Director-General, said in an official statement.
The WHO said that 108 million blood donations are collected globally every year. However, nearly 50 percent of these blood donations are collected in high-income countries, where only 20 percent of the world's population lives. It further said that the average blood donation rate is nine times more in high-income countries than in low-income countries.