The World Bank on Tuesday said that the Indian economy is witnessing a slow recovery, aided by improved export momentum and a steep decrease in inflation, which could allow for a rate cut by the Reserve Bank of India (RBI).
The World Bank has projected the Indian economy to grow at 6.4% in 2015-16 from an estimated 5.6% in 2014-15. India's GDP is expected to surpass that of China's by 2017.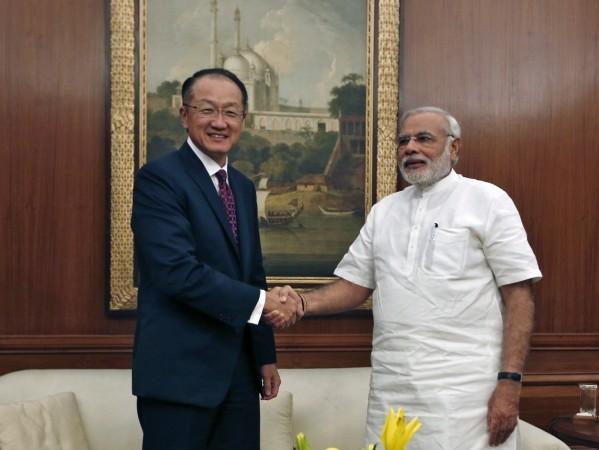 World Bank's Global Economic Prospects report cited weakening global oil prices, currency depreciations and the lagged effect of monetary tightening to have contributed to keeping inflation in check. It added that a part of the decline in inflation could also be attributed to the favourable base effect, allowing for moderation in food price in the later half of the year despite a poor monsoon.
November factory output posted a 3.8% increase and retail inflation for December stood at 5%, fuelling hopes of an RBI rate cut.
Growth Enablers
With India's major trading partner US seeing demand rise, export momentum is likely to gather pace in the coming months.
The NDA government's reform agenda and a factorable current account deficit, helped by the fall in oil prices and decrease in gold imports, should see India break away from the low-growth phase it has registered over the past few years.
However, the report cautioned that India's fiscal deficit and the government debt ratio continue to remain high.
Fiscal Consolidation
The report also added that successful fiscal consolidation would depend on long-term reforms to expenditure management, especially subsidies. Tax reforms must also be implemented at the earliest, as India has an extremely low tax to GDP ratio, when compared to its peers. Addressing these issues would ensure fiscal sustainability and increased resources for critical poverty reduction programmes.
Fiscal deficit is expected to gradually go down as the government revenue increases on the back of subsidy rationalisation and shedding government stakes in state-run organisations.
Reforms and deregulation is expected to lift FDI flow. Investment, which accounts for about 30% of the GDP, should strengthen and help expand the economy by 7% by 2016, read the report, if reforms push continues steadily.
Finance minister Arun Jaitley on Tuesday noted that the NDA government, under Prime Minister Narendra Modi, has initiated many reforms in the past seven months it has been in power.
At the pre-budget consultative meeting with economists, Jaitley noted that the macro-economic stability has improved, helped by economic growth picking up and by limiting inflation. However, he cautioned that the global economy continues to face challenging times, with recovery not still in sight.
The World Bank report noted that India's reform momentum has picked up, after the NDA government started implementing measures to cut red-tape, improve infrastructure climate, deregulate key parts of the economy, while continuing with its plans to limit the government's role.
If the reforms are successfully implemented, it would back the recovery under way by bolstering confidence and private investment.