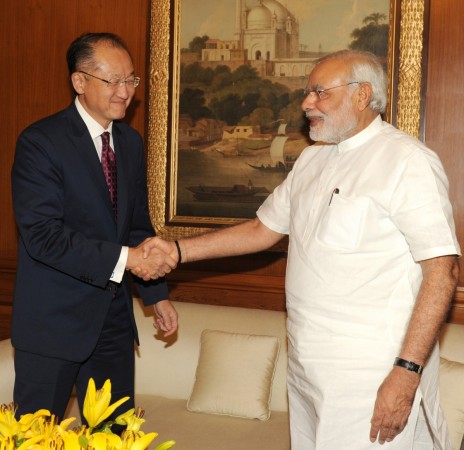 Days after Narendra Modi was criticised for saying that low growth in one quarter was not a big issue, the World Bank chief on Thursday praised the Indian Prime Minister for the economic reforms that he levied in the country.
After IMF and ADB, World Bank lowers India's GDP growth forecast to 7%
Modi's reforms 'significant'
In fact, Jim Yong Kim called the reforms "significant" and went on to highlight the importance of the reforms in the long run, which was exactly what Modi had assured on October 4.
"The reform process has been significant," Kim told reporters at the beginning of the annual meeting of the International Monetary Fund (IMF) and the World Bank in Washington.
"We think that certainly in the medium and long term, the growth will reflect the seriousness of Prime Minister Modi's government in making those reforms," added Kim.
Kim acknowledged the government's work while responding to a question on the recent economic slowdown of India.
While Modi had said that the Reserve Bank of India (RBI) has predicted 7.7 percent growth in the coming quarters, both the World Bank and the IMF have downgraded India's growth projections.
On Wednesday, the World Bank stated that India's GDP may slowdown from 8.6 percent in 2015 to 7 percent in 2017 because of disruptions by demonetisation and the GST, said a PTI report.
Even the IMF has forecast that India's growth projection will be 6.7 percent in 2017.
Reforms will definitely yield goals
However, Kim feels that the recent slowdown in India's economic growth is short-term. He termed it as an "aberration" which occurred mainly due to the temporary disruptions in preparation for the GST.
"Our team feels that the slowdown has been because of the waiting for the passage of goods and services tax," Kim explained.
"But the goods and services tax we have to understand is something that India has been talking about for a long time, well before Prime Minister Modi took power," Kim said.
GST hailed
According to Kim said that the "goods and services tax would be very good for Indian growth".
"Prime Minister Modi took a very different approach to our doing business report. And his approach was we are going to move up quickly and we are going to do the things that we need to do to reform the business environment," he said.