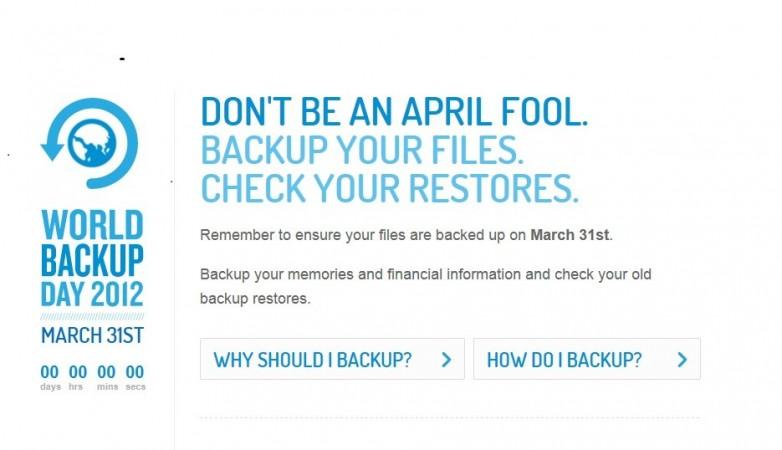 A day before April Fool's day, the world comes together to observe the World Backup Day on March 31. Started last year by online user Ismail Judin, this day is observed to raise awareness about the importance of safeguarding data in the interest of consumers and companies.
Last year, people generated over 1.8 zettabytes of data, which is nearly 57 billion iPads, according to Yahoo. This valuable data must have a back up, as one can never be sure against a system crash, a virus intrusion or purposeful mishandling of hardware. World Backup Day guides and suggests users worldwide to be careful and smart about the data they store on electronic devices.
Yahoo mentioned that the development in cloud computing has made data storage quite a feasible expense, complimented by a string of devices that store any amount of data for you depending on their individual capability of holding data.
PCQuest says every business on average loses $10,000 worth of data, whenever there is an instance of data theft or loss due to some reason.
A study by Gartner revealed that 25 percent of all computer users suffer data loss, with 80 percent of businesses hit by data loss within the first 24 hours of going operational closing operations in a years time.
Data loss, not only steals all important business-related data but also jeopardises your brand and business model, wears away the trust of your clients and there can be lawsuits put up against you, not to mention the loss that you incur in setting up a new system or upgrading an old one.
This year, the World Back Up Day has been made more exciting with gifts and sweepstakes being a part of the plan.
"We are living increasingly digital lives and the rate that data being generated is exponentially growing every year. People need to be aware of the importance and security of their data files," said Ismail Junum, according to the Gulf News.
To know more please visit 31 March World Back Up Day 2012.