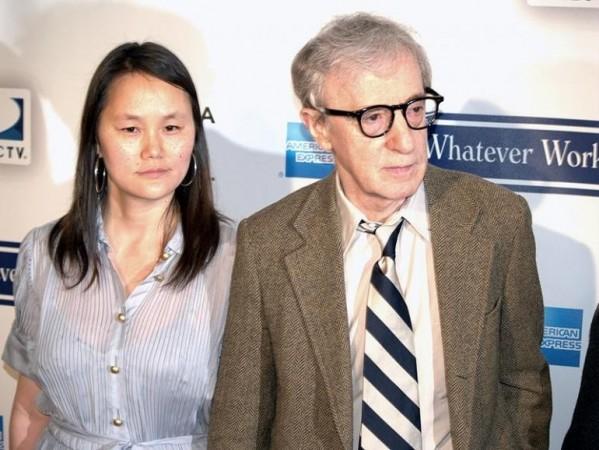 A week after daughter Dylan Farrow accused Woody Allen of molesting her as a 7-year-old child, Allen has written an article denying the charges.
Dylan's open letter, in which she accused Allen of molesting her, first appeared in the New York Times on Feb. 1. Allen has now used the same news outlet to defend himself in a sensational opinion piece.
Dylan, in her letter, described her memories of the famed director. "This things happened so often, so routinely, so skillfully hidden from a mother that would have protected me had she know, that I thought it was normal," Dylan had said.
In the 1,885-word article, published online and awaited to appear in the Sunday's print edition, Allen says:
"Of course, I did not molest Dylan. I loved her and hope one day she will grasp how she has been cheated out of having a loving father and exploited by a mother more interested in her own festering anger than her daughter's well-being. Being taught to hate your father and made to believe he molested you has already taken a psychological toll on this lovely young woman..."
Dylan, now 28, was adopted by Allen and his ex-partner Mia Farrow in 1987 when she was 2. At the time of their breakup more than two decades ago, Mia Farrow had accused the Oscar-winning filmmaker of molesting the adopted daughter. Allen, 78, has consistently denied the abuse allegation insisting that his ex taught their daughter into making the false claims.
Here are brief highlights of Allen's response:
Allen says that when the allegation first surfaced 21 years ago, it was "so ludicrous I didn't give it a second thought." He said that he didn't even hire a lawyer to defend himself until the matter was reported to the police.
The director also says that the presiding judge in the original case, Justice Elliot Wilk, "never approved of my relationship with Soon-Yi, Mia's adopted daughter, who was then in her 20s. He thought of me as an older man exploiting a much younger woman, which outraged Mia as improper despite the fact she had dated a much older Frank Sinatra when she was 19."
Allen alleges that Farrow made-up the allegation to take revenge for his relationship with Soon-Yi.
He says the setting of the alleged "fabricated molestation" is questionable. "Mia chose the attic of her country house, a place she should have realized I'd never go to because it is a tiny, cramped, enclosed spot where one can hardly stand up and I'm a major claustrophobe," he added.