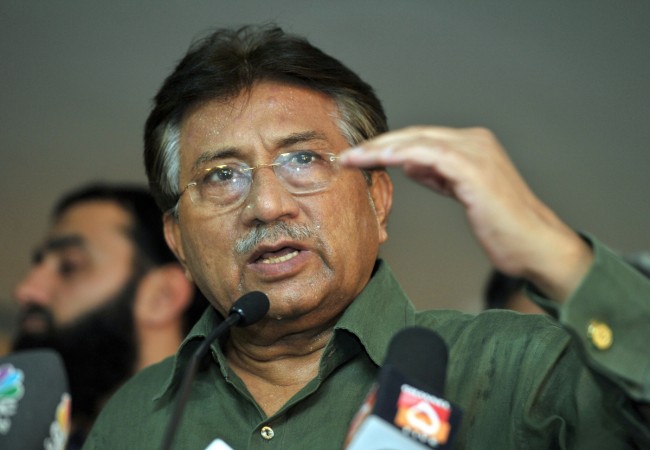 Referring to India's decision to suspend foreign secretary level talks, former Pakistan President Pervez Musharraf slammed Prime Minister Narendra Modi, saying he cannot dictate terms to Pakistan and called him anti-muslim.
"Prime Minster Modi is your Prime Minister, not Pakistan's Prime Minister," The Asian Age quoted Musharraf as saying. "We don't get any dictations from him... We know his anti-Pakistan credentials. Now, it may be a red line for you that people of Pakistan or the foreign secretary must not meet the Hurriyat (leaders)... We do not follow your red line."
He claimed that former Indian PMs Atal Bihari Vajpayee as well as Manmohan Singh had never withheld talks after his meetings with Hurriyat leaders in the past, and said, "Why is there a change of heart. That itself shows and proves the anti-Pakistan credentials of PM Modi," adding that "Modi will have to change his stance."
Musharraf told this while talking to TVTN Managing Editor Rahul Kanwal. He also threatened to use nuclear weapons against India when it will be needed. And slammed the government for blaming Pakistan for involvement in terrorist activities in India.
"India has no proof of any Pakistani involvement. There is absolute evidence of your consulates in Jalalabad and your RAW (Research and Analysis Wing) indulging in all kinds of activities in Pakistan's Balochistan province and other places. The world should help us fight terrorism instead of blaming us for it," Pakistan Today quoted Musharraf as saying.
Pointing out how Pakistan's Prime Minister Nawaz Sharif is trying hard to develop peaceful and friendly relations with India, Musharraf claimed that India has been doing the reverse by blaming it for terror activities, cancelling diplomatic talks and not accepting Sharif's invitation to Modi for Pakistan visit.