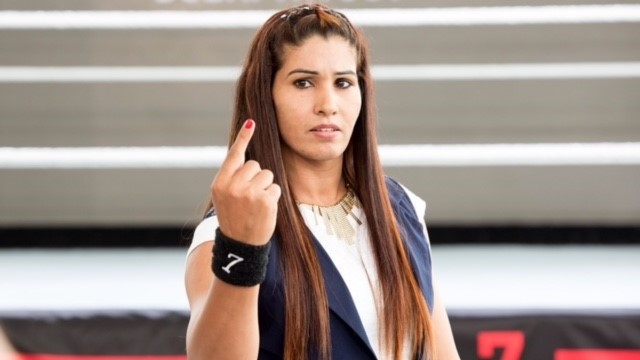 The year 2017 remained spectacular for Indian female pro wrestler Kavita Devi. The former Continental Wrestling Entertainment (CWE) superstar made her mark at the WWE Mae Young Classic tournament last July.
Although the married pro wrestler lost out to New Zealand's experienced pro wrestler Dakota Kai 'Evie' at the Full Sail University in Florida, in the inaugural round of the Mae Young Classic tournament, Kavita made history by becoming the first-ever Indian woman to sign a WWE developmental contract.
She is now a part of the WWE Performance Center in Orlando, Florida.
With Stephanie McMahon announcing a historic Women's Royal Rumble match in the Royal Rumble 2018 pay-per-view (PPV) event and Kurt Angle revealing that 30 women will be a part of the match, our focus goes straight back to Kavita, who has become an internet star following her Mae Young Classic match.
The highlights video of her match on YouTube has crossed an unbelievable 15 million views now.
WWE are rumoured to be giving a major surprise by throwing in former UFC superstar Ronda Rousey to the Royal Rumble match but going by how the fans on internet has reacted, Kavita has tremendous potential to become another stunning surprise entrant.
The 34-year-old former weightlifter has a solid built as well. She is close to 6ft tall and also her strong moves inside the ring has enthralled everyone. Kavita doing the gorilla press slam on Dakota is now a viral photo.
She is an accomplished power-lifter who won gold at the 2016 South Asian Games, representing India. Also a former Kabaddi player in high school, Devi learnt her ring skills from former WWE World Heavyweight Champion The Great Khali.
she started out as a pro wrestler under the ring name 'Hard KD'. Kavita made her CWE debut against BB Bull Bull, wearing a salwar kameez (a traditional Indian ethnic wear for women).
If there are as many as 30 women who can take part in the inaugural Women's Royal Rumble match, Kavita Devi deserves to find a place.