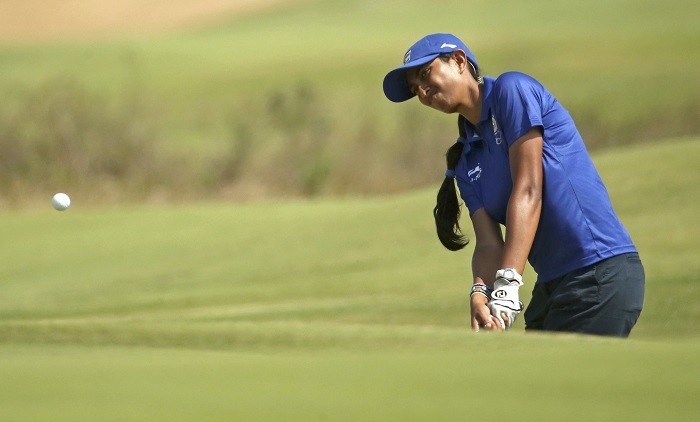 Still only 18 years old, Aditi Ashok served yet more notice of her wonderful talent by clinching the women's Indian Open title, with it becoming the first woman of the country to take the top honour. The Bengaluru girl made waves when she was an amateur and having turned professional, she continues to impress.
With the pressure of trying to become the first Indian to go all the way in Delhi, Aditi kept her nerve to come up trumps by one shot, ahead of Brittany Lincicome and Belen Mozo, who finished joint second.
Aditi, who also impressed while representing India at the Rio Olympics, even if she faded a little after a stellar opening couple of rounds, was understandably elated after creating history on Sunday with a superlative performance.
"It feels good," Aditi, who made her debut in this tournament as a 13-year-old amateur, said. "I've had a lot of good finishes at the Indian Open and to finally get the job done, feels good, especially as an Indian player in front of my home crowd. It means a lot to win this."
What really stood out about Aditi's performance in the final round was the sense of calm she portrayed. Even when the lead kept changing hands, with Mozo piling on the pressure, Aditi, belying her age, showed tremendous ability to handle the pressure, which, in an individual sport, is everything.
"I think I'm always calm," Aditi, speaking like a veteran of many major titles, said. "I had to remain patient because the back nine is tougher than the front nine. I knew I had to make the putts on the back nine and I made one on 10.
"I managed to create chances but 15 and 16 I just couldn't make. I bogeyed 17th, where I made par and birdie on the first two days. I had a good chance on the 18th and made that."
She might be only 18, but Aditi has already inspired and continues to inspire girls, and boys, to take up the sport of golf.
"More girls will have a chance to take golf as a career than there were five years ago," Aditi added. "That's a good change and hopefully with my win there will be a lot more girls wanting to play golf."