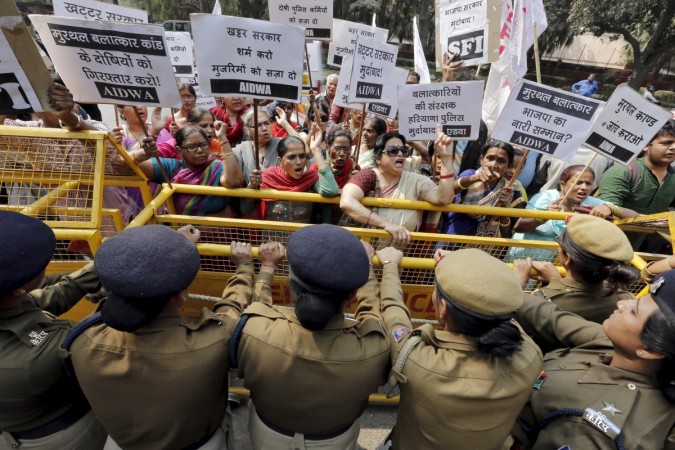 The government will open three one-stop crisis centres (OSCCs) — to address the physical and mental health needs of women affected by violence — Tuesday, on the occasion of International Women's Day.
The Women and Child Development (WCD) Ministry, under the scheme (OSCS) — launched in 2015 to provide medical, legal and psychological support to women affected by violence — has already established six such centres in Chhattisgarh, Andhra Pradesh, Haryana, Odisha, Rajasthan and Chandigarh.
"The (number of) OSCCs for providing safety to women affected by violence will be significantly expanded this year. We are launching three more OSCCs in Uttarakhand, Uttar Pradesh and Madhya Pradesh. Foundation stone (for one more) will also be laid in Nagaland," WCD Minister Maneka Gandhi was quoted by the Press Trust of India as saying.
"We will come up with five to six centres every month this year," she said.
The Justice JS Verma Committee, set up after the 2012 Delhi gang-rape case, recommended establishing such facilities for women.
Under the scheme, an OSCC is to be established in every state or Union Territory (UT) to facilitate access to medical, psychological and legal aid for women affected by violence. The centres are expected to be integrated with 181 telephone helplines and the women in need of redressal services could be referred to any centre through these helplines.
The WCD ministry has also released funds to more than 30 states and UTs for building the facility.
Initially, these centres were proposed to be established at 660 locations covering all the districts across the country. The government, after receiving feedback from the public, stakeholders and following inter-ministerial consultations decided to build them in a phased manner.
The centres will act as a one-stop facility to provide rescue and security services to women affected by violence, refer them to nearest hospitals, help them lodge a complaint and provide them with psychological and legal aid, as well as counselling, according to the scheme.
Women's rights activists, however say there are various drawbacks in the scheme, including the inadequate number of such centres, limited budget for providing facilities to violence-affected women and commitment to real empowerment of women.
"So far, we have not seen any concrete programme by the government which ensures security of women from all classes of society. These schemes should not be just symbolic gestures but substantially improve the lives of women affected by violence. The monitoring of the scheme is still an issue, and it would be advisable that the government ties up with various women's rights non-profit organisations for better implementation of the scheme." Ranjana Kumari, director at the Centre for Social Research, a non-profit organisation working for women's rights in India, told International Business Times, India.