Way back in the 1970s, feminists were discarded as men-hating, bra-burning sociopaths who hated nothing more than shaving their legs. However, now comes a new group of women who are so comfortable in their femininity that they say feminism has no place in our society because patriarchy is over!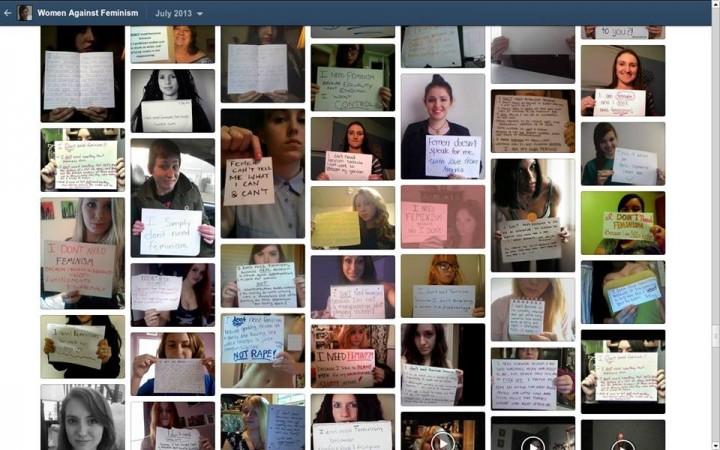 On their Facebook page, Women Against Feminism claim they are "women's voices against modern feminism and its toxic culture", and are now railing against women's rights with #WomenAgainstFeminism on Twitter and Tumblr.
Perhaps owing to the anti-feminist ripples, National Public Radio (NPR) this week re-promoted their 2011 interview with Phyllis Schlafly, a mother, lawyer, columnist, author, radio host and most importantly, the woman who campaigned to stop the passage of the Equal Rights Amendment 1973.
"They think it (feminism) is about advance and success for women, but it's not that at all. It is about power for the female left. And they have this, I think, ridiculous idea that American women are oppressed by the patriarchy... And they're always crying around about things like the differences between men and women are just a social construct... So they're really in a fight with human nature. I would not want to be called a feminist," Schlafly said during the interview.
"I think it's made women unhappy - it's - to make them believe that we live in a discriminatory and unjust society, and that they should look to government to solve their problems," she adds.
It is comprehensible that 80-year-old Schlafly feels this way but when educated women of the 21st century takes to the internet and rant about how feminism has done nothing for the progression of society, it is heartbreaking.
The photo collection of women holding signs explaining why they don't need feminism are receiving far more attention than it deserves; most of these reasons are embarrassingly bad and seem to lack a basic understanding of feminism.
#WomenAgainstFeminism because I like to shave my legs and wear a supportive bra. #yolo

— Veronica Lewis (@VeronicaLewis) July 21, 2014
#WomenAgainstFeminism because I don't use my gender as an excuse..

— Caroline Craig (@CeeJayCraig) July 21, 2014
Many men showed support to the message and egged these anti-feminists on.
"Misogynist culture" When every article in the mainstream media condemns and mocks #womenagainstfeminism while praising #YesAllWomen

— Joel Hughes (@JoelJHughes) July 24, 2014
If feminism is about giving women a voice, and giving women freedom, then shouldn't feminists support #womenagainstfeminism ?

— Colby Wrong (@CouldBWrong) July 24, 2014
However, many who were appalled by this trend, also expressed their feelings on social networking sites.
The #womenagainstfeminism hashtag is probably one of the most depressing things I have seen on twitter - http://t.co/jXqMyBAzan

— Phoebe Miller (@PhoebeWedding) July 24, 2014
Just because YOU'VE never felt oppressed, millions of women worldwide have and are. It's a fact. I don't understand "#womenagainstfeminism".

— Leanne Woodfull (@LeanneWoodfull) July 24, 2014
Some were peeved by this trend as well, and took to Twitter to express their disdain for the campaign. Stand Up Comic Edward DeCesare got so agitated by it that he began a counter-campaign - #MenForFeminism.
#WomenAgainstFeminism is one of the most ridiculous things I have ever heard of. Why would a woman be against having her own rights?

— Jai'me Jan (@jaimelondonboy) July 24, 2014
#MenForFeminism because I know that feminism isn't the same as man hating but counter feminism is the same as misogyny

— Edward DeCesare (@EdDeCesare) July 24, 2014
As this woman rightfully puts it:
#womenagainstfeminism plays so beautifully into the patriarchal delight in women competing w/ one another and seeing each other as a threat.

— Evelyn Enduatta (@FF_notes) July 24, 2014
In response to this hullabaloo, Beyonce posted an Instagram picture of her dressed as 1940s wartime icon Rosie the Riveter, behind a banner that reads "We Can Do It!", in hopes of shutting up #WomenAgainst Feminism