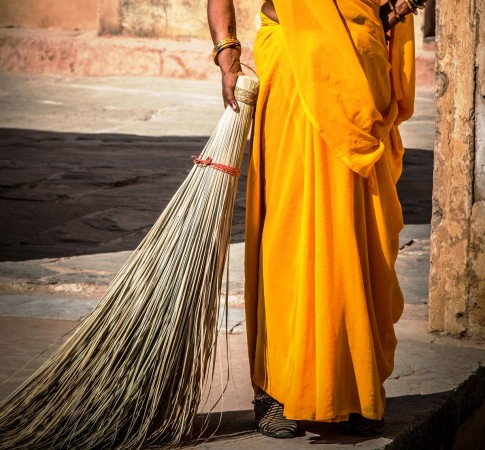 Rajasthan education department in its magazine has advised women to sweep the floors, fill water pitchers and grind 'chakki (stone grinder)' in order to stay fit.
These suggestions are made in the November edition of the department's monthly magazine called Shivira Patrika.
Though the general advisory usually features essays on education, great personalities, or issues of general interest, what drew the attention of the readers is the 14 instructions under the rubric 'Swasth rehne ke saral upaay' (Simple ways of staying fit).
While it focused on going for a morning walk, breathing exercises, running, cycling, horse-riding, swimming or other sports, it also suggested household chores like sweeping and mopping the floors, making chappatis, filling pitchers can be done to stay healthy.
Suggestions receive flak
"It's very shameful that the education department is reinforcing the same stereotypes that education is supposed to liberate us from," Kavita Srivastava, the national secretary of the People's Union for Civil Liberties told Hindustan Times.
Though the Director of Secondary Education Department, Nathmal Didel, who is also Chief Editor of the magazine, defended the column saying that they are only suggestions, he too admitted that the domestic activities should not have been suggested as exercise specifically for women.
"There are many men who sweep and mop the floor themselves. I don't think women are lagging behind men in any manner, they are equally competent. The intention of the department was never to undermine women," Didel was quoted as saying by the Indian Express.
The column in the 52-page magazine also went on to suggest that one should refrain from drinking alcohol and soft drinks and particularly named two beverage brands Coca-Cola and Pepsi.
Among others suggestions, the magazine also listed the benefits of eating green vegetables, germinated grains, milk, buttermilk, high-fibre flour, etc.