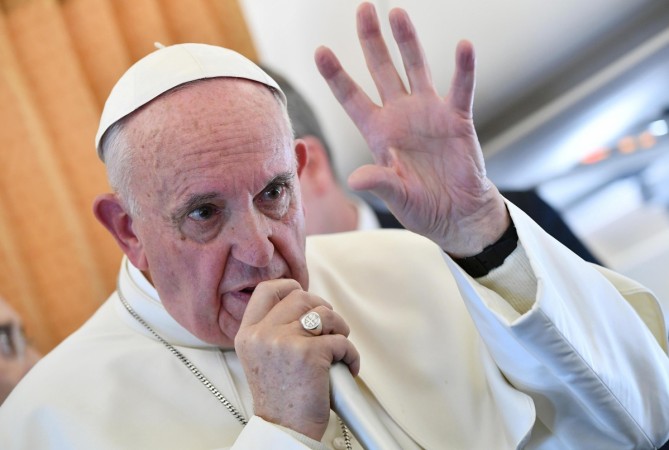 The Roman Catholic Church will not be ordaining women as priests and the ban is going to be in place forever, Pope Francis said on Tuesday during an in-flight news conference while on his way from Sweden to Rome.
He was visiting Sweden to celebrate the 500th anniversary of the Protestant Reformation. At the event, he embraced the female primate of the Church of Sweden, Archbishop Antje Jackelen.
During the flight back, he was asked by a Swedish journalist if there might be female Catholic priests in the coming decades while referring to Archbishop Jackelen.
"St. Pope John Paul II had the last clear word on this and it stands, this stands," Francis said, according to Reuters.
The journalist counter-questioned him asking, "But forever, forever? Never, never?"
Francis responded: "If we read carefully the declaration by St. John Paul II, it is going in that direction."
He was referring to a 1994 document by Pope John Paul, which said that the Catholic Church wouldn't ordain women as Jesus chose only men as apostles.
The Women's Ordination Conference (WOC), a group that promotes a female priesthood, reacted to Francis' statement saying, "Patriarchy Will Not Have the Last Word".
"The Women's Ordination Conference (WOC) is profoundly disappointed with Pope Francis's reliance on his predecessors' documents regarding the possibility of priestly ordination for women," the group said in a statement.
"Instead of citing John Paul II, Pope Francis might have cited the Vatican's own Pontifical Biblical Commission that concluded in 1976 that there is no valid scriptural or theological reason for denying ordination to women, or looked to archaeology and historical documents that show women's leadership in the early church. He could have looked to Jesus who welcomed women as his equal. Or he could look to the people of God who overwhelmingly support the ordination of women," they said.