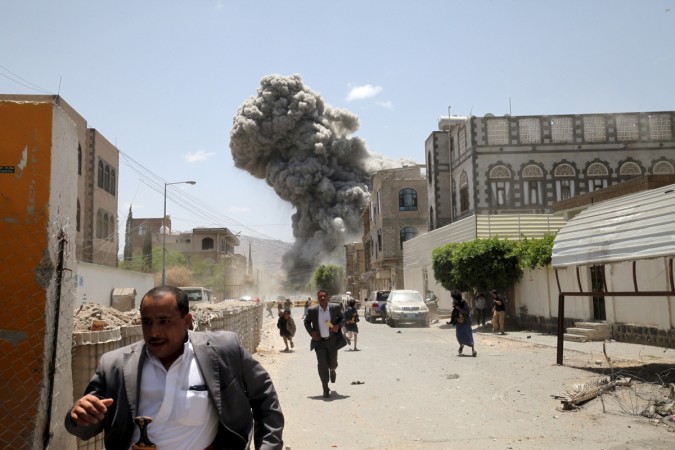 Horrific, haunting images of malnourished children, women brandishing weapons, civilians killed by airstrikes are emblematic of the conflict that continues to rage in Yemen.
Fighting between the Iranian-allied Houthis and supporters of the internationally-backed government of President Abd-Rabbu Mansour Hadi began in March 2015, when a Saudi-led alliance intervened to try to restore Hadi to power after the Houthis, a movement from the Zaydi branch of Shi'ite Islam, advanced on his temporary headquarters in Aden and forced him to flee to Saudi Arabia. A year later, the United Nations also faced flak from human rights groups in June 2016 for removing the Saudi Arabia-led military coalition from its report that accuses the coalition of being responsible for casualties that resulted from its bombing campaign in Yemen.
Since the conflict began, it has killed more than 6,200 people and displaced more than 2.5 million, causing severe humanitarian crisis.
More than 14 million Yemenis, over half of the country's population, are in need of emergency food and life-saving assistance, according to a report issued by the United Nations and the Yemeni government. One million Yemeni children face severe malnutrition within months as families struggle to pay for food in one of the Arab world's poorest countries, according to the U.N. World Food Programme.
Pictures of Houthi Yemeni women accompanied by children and infants who participated in a military parade on Sept. 6 in Sanaa present yet another reality of the country. The women vowed to fight alongside Iran-backed Houthi militias in Yemen's 18-month old conflict. Backed allegedly by Iran and Hezbollah, Houthi women wielding rocket-propelled grenade launchers and assault rifles indicate that the fight is far from over.