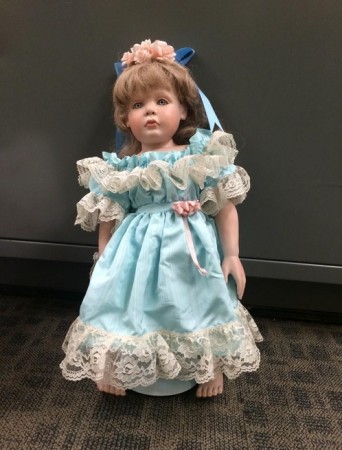 Almost every scary movie taught us that there are fewer things creepier than malevolent playthings and that dolls are never to be trusted; you've got Chucky from "Child's Play", Annabelle from "The Conjuring", all the dolls from "Dolls", and the list goes on. A woman from Orange County, California, managed to scare eight families, by placing creepy porcelain dolls that strangely resembled their children in front of their homes, abc reported.
11 dolls were reported by frightened parents, according to Orange County Sheriff's Department Lt. Jeff Hallock. The slew of deliveries began on 16 July with at least eight San Clemente families finding porcelain dolls on their doorsteps and, according to KTLA, at least some of the girls attend the same elementary school. The dolls raised serious concerns among the families that received them, as they had a striking resemblance to their young daughters.
"(Someone) found a China doll on her stoop that looked like her daughter," a resident Mary Robin Baziak said. "Her daughter has brown hair, tan skin, and the doll literally had olive skin and brown hair."
Hallock, however found that it was quite "creepy or very unusual" that there were no notes or threatening messages attached to the dolls.
On 25 July, Sheriff's Department's official Twitter account posted the pictures of couple of the dolls and anyone with any information or lead on the story was asked to contact 714-647-7000.
#OCSDPIO: San Clemente - Porcelain dolls found on the door steps of homes of several families in Talega area. pic.twitter.com/SO2fyzJ3Aa

— OC Sheriff, CA (@OCSD) July 24, 2014
#OCSDPIO: Porcelain dolls UPDATE - Investigators following up on info & examining dolls for leads. If you have have info, call 714-647-7000 — OC Sheriff, CA (@OCSD) July 24, 2014
On Thursday night, the Sheriff's department announced that investigators have located the person who left the porcelain dolls. It was in fact a harmless Southern California woman who attends the community's church and whose children had grown out of their doll-playing days, who decided to clear out her doll collection and 'surprise' her neighbors with the dolls, in an act of 'goodwill.'
"Because her intentions were good, she felt embarrassed at the fear she instilled in the community," said Hallock. "She just thought she was being nice."
The Sherrif's department also released a statement via Twitter that said the mystery of the porcelain dolls have been solved and that "investigators have concluded that her motivation was out of goodwill and that she intended it s a kind gesture."