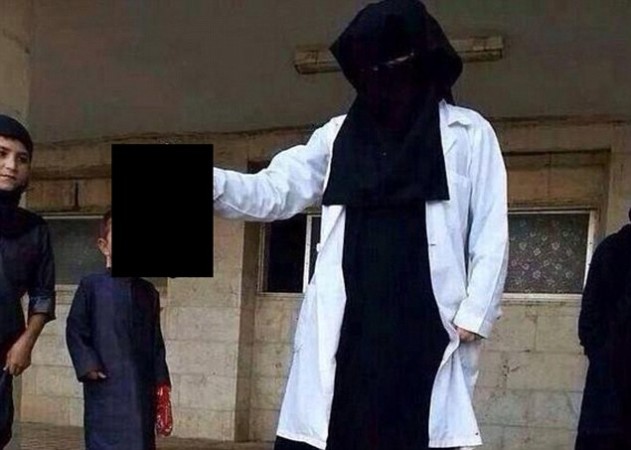 A 21-year-old British medical student, who goes by the name of Mujahidah Bint Usama on Twitter, has shocked everyone by posting a picture wherein she can be seen with a severed head in her hand as two children look on.
The young radical Briton is believed to be working along with the Islamic State militants in Syria and her Twitter name Mujahidah Bint Usama appears to be an assumed identity to reflect her affiliation to Islamic State and its jihadist ideology.
In the Tweet, Bint Usama claims to be a doctor for the Islamic group based in Raqqa, Syria. Her Twitter account @Irhabiyyah since then has been suspended.
In the picture, the medical student can be seen wearing a full burqa and white lab coat, while holding the head of a middle-aged man. On the left, two boys can be seen standing beside her. Along with the image @Irhabiyyah also posted a message saying: "Dream job, a terrorist doc," followed by smiley and heart emojis.
The Daily Mail citing the The Sunday Telegraph confirmed that Mujahidah Bint Usama, who posted the gruesome picture, is a 21-year-old British medical student. Her real identity, however, is yet to be revealed.
Her name -- Mujahidah Bint Usama- suggests that it's an adopted name that reflects the 21-year old girl's jihadi ideology. Mujahidah is the female for Mujahid – the one who struggles for the sake of Allah and Islam, while Bint means 'daughter of' Usama.
It is suggested Usama is a likely references to the slain top al Qaeda leader, Osama bin Laden.
The Daily Mail report noted that British intelligence services, GCHQ and MI5 have been monitoring the accounts of several British female jihadis operating out of Raqqa in order to put together a picture of their activities.
The ISIS lady doctor posing with a severed head tweet comes at time, when another British woman in Syria working for the ISIS posted on Twitter that she wants: "David Cameron's head on a spike," reported The Independent.
Al Britaniyaa (formerly Al Jazraweeya), who claims to be 18-years old in another post also had tweeted: "The black flag is not only limited to Iraq and Shaam ['Greater Syria'] inshallah it shall fly over 10 Downing St."
The Telegraph recently revealed that the International Centre for the Study of Radicalisation (ICSR), based in King's College in London has found that there are at least 60 British women, who have joined the jihadists in Syria.
The report also noted that Aqsa Mahmood, a 20-year-old woman from Glasgow was a key member of al-Khanssaa brigade, which is an ultra-religious police force that punishes women for un-Islamic behaviour.