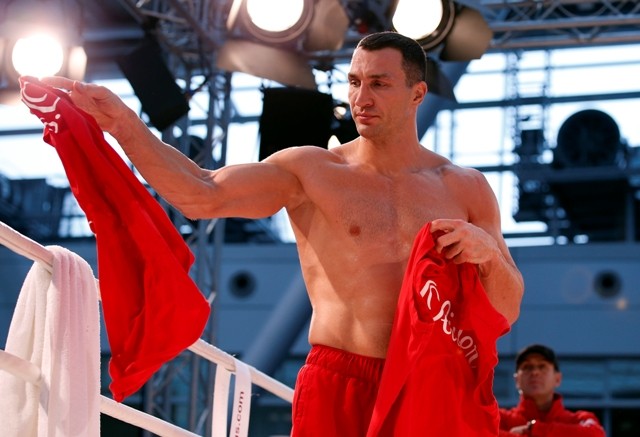 Heavyweight boxer Tyson Fury can try to entertain prior to the fight, but the Brit has got to take things a bit seriously now with the much-awaited bout between him and the champion Klitschko just 24 hours away.
Pro boxing veteran and one of Ukraine's greatest pugilists of all time, Wladimir Klitschko, will look to defend his decorated WBA, WBO and IBF heavyweight titles as he takes on Fury on Saturday in Dusseldorf, Germany.
This will be the 19th title defence for Klitschko.
The 6'6" heavyweight boxer looks the better man on paper by all means, as he is the second-longest reigning heavyweight champion of all time, the first being Joe Lewis. Klitschko looks unbeatable, and the 39-year-old Ukrainian has mentioned that it is his huge ego which prevents him from backing down in the boxing ring.
"I would have to allow someone to beat me, but I won't allow that because my ego is my protection," Klitschko was quoted by the BBC. "The person who can beat me is myself. If I'm 100% focused, then the only person who can beat me is myself."
"My ego is big and it gives me the motivation. My ego says I have been champion for a long time. I think that's the core of any successful person - ego. I wouldn't say to put ego in a negative box. I think it's controlled ego - it's big and that's probably the core of your motivation," Klitschko, who has held the IBF heavyweight championship for nine years, six months, and running, added.
Fury, 27, is undefeated from 24 fights in his career, and has turned the spotlight on himself in recent months following his light-hearted antics that saw him take on the role of comic superhero 'Batman' and also dedicate songs for the champion.
However, nothing will really count much for the Briton if he doesn't live up to the reputation of producing a good show in Germany, and Fury Sr is aware of that. The challenger's father, John Fury, who was himself a boxer in the 1980s and 90s, stated that his son would be giving a great fight tomorrow night and will "change the world".
"Tyson is an animal with a cunning, intelligent brain," Fury Sr told the Guardian. "He's not only here to box but to change the world. And things will change in Düsseldorf on Saturday night. Because I've seen Wladimir's last 10 fights and unless he shows something we haven't seen before he can't beat my son."
Wladimir Klitschko vs Tyson Fury: Fight Schedule
Weight division: Heavyweight
Total rounds: 12
Date: 7 November, 2015
Venue: Esprit Arena, Dusseldorf
TIme: 9:55 pm GMT onwards (3:55 pm EST, 2:25 am IST)
TV listings: Sky Sports Box Office (UK—pay-per-view), RTL (Germany), HBO (United States)